Watch this anchor bob and weave between OTS boxes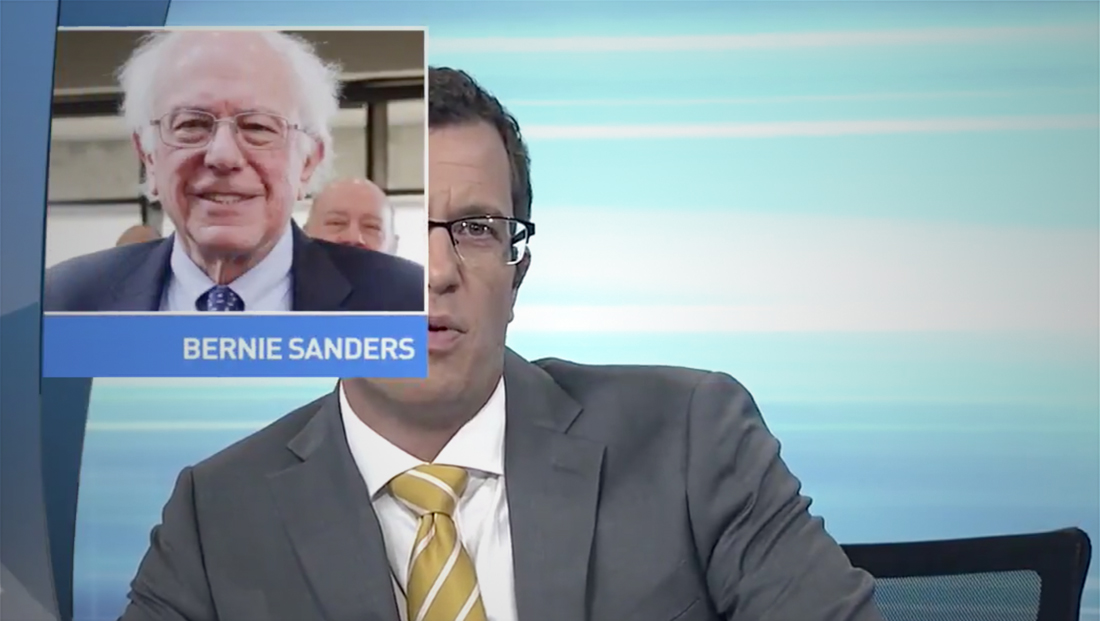 Journalists aren't supposed to reveal which way they lean politically — and thanks to a series of graphics flubs, one Georgia anchor managed to lean both right and left on air.
Rick Devens, a morning anchor at Sinclair's Fox affiliate WGXA in Macon, Georgia, was on air Aug. 23 reading a story about democratic presidential candidate Bernie Sanders.
Initially, a generic OTS of the U.S. Capitol building appeared on the left side of the screen as Devens began reading a story about Bernie Sanders — when the graphic (and accompanying lower third) abruptly disappeared and a graphic of Sanders animated in on the right side of the screen, covering Devens' face.
Devens spotted the error and leaned to his right so his face wasn't covered by the Sanders graphic.
The graphic then disappeared and a camera left version appeared, likely in an effort to correct the problem, covering Devens' face again.
Devens went with the flow and leaned left.
Perhaps ironically, Sanders is known for being an independent — so perhaps the station would have been better off not using an OTS at all and simply "centering up" the one shot.
Sinclair, meanwhile, is know for its right-leaning slant that has been evident on air with its "Terror Alert Desk" and "must run" political commentaries and specials — plus adding an image of the American flag to its stations' lower thirds, including at WGXA.
While some TV stations always put OTS graphics on the same side of the screen, others will alternate placement based on which side of the anchor desk the talent is sitting on.
However, since graphics are often prepared before anyone knows which anchor will be reading the story, most of OTS graphics are designed to be used on either side of the screen — and typically two versions can be outputted by the graphics system on the fly based on how the newscast is stacked.
While the two versions can be the same with the graphics system simply controlling its position on screen, some other stations also design distinct versions for either side to, for example, avoid having a person's photo in the box facing "off canvas."
The latest in design, production and engineering
Subscribe to NewscastStudio for the latest delivered straight to your inbox.