Networks put Dorian in the corner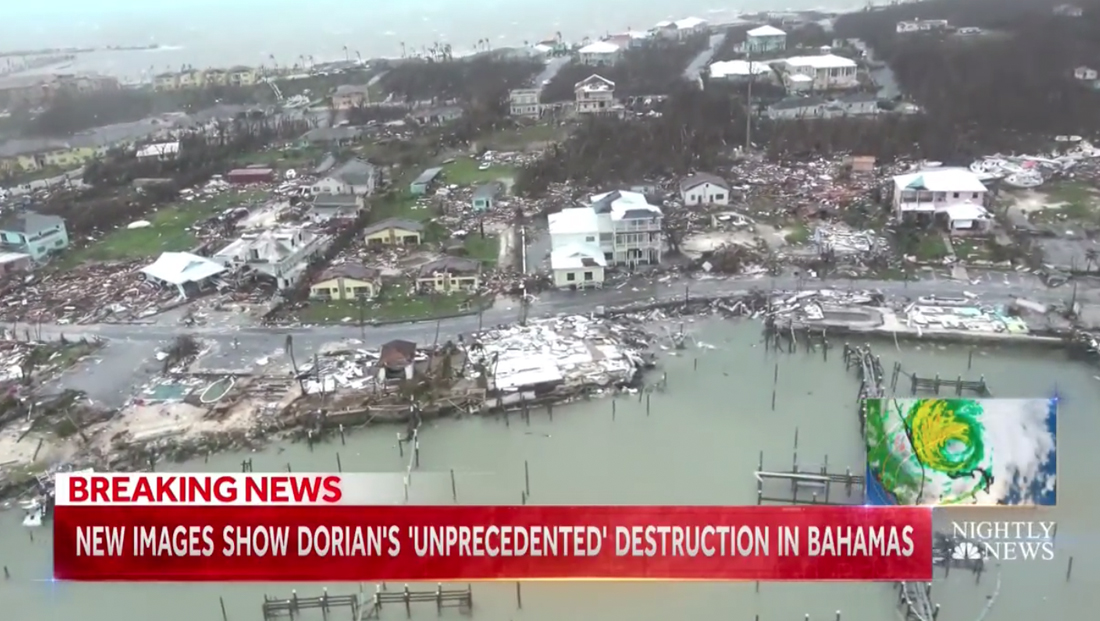 With slow moving Dorian moving in on the U.S., the big question is where the storm will head — and networks are keeping
"NBC Nightly News" put a radar and satellite loop in the lower corner of its screen Tuesday, Sept. 3, 2019, just above the bug that rotates between the "Nightly" logo and NBC News one.
The box it's in, which includes the broadcasts signature light burst corner accents, butts right up against part of the lower third banner, which is colored red with a storm motif.
While the bright colors and eye-catching rotation certainly are a good way to grab the eye and remind viewers of the continuing coverage, it's worth noting that, more often than not, these boxes are so small it's difficult to make out much of what's trying to be shown.
For example, city names, timestamps and hurricane category numbering often becomes so small it's hard to read even on larger screens — but especially on mobile devices or from a distance.
The maps also, with a varying degree of success, illustrate the relation of the storm to land — but again, the cloud imagery can often obscure much of that making it tricky to understand the geography of where the storm is headed.
In general, the graphics showing the path of the storm with high contrast outlines and larger icons seem to be easier to read and get valuable information from — as opposed to just a colorful swirl that looks just like many storms.
Fact boxes, meanwhile, are typically clearer and easier to read — though often the data in its is a bit obtuse — many viewers, especially those outside the immediate area, might find it hard to picture what "moving NNW at 8 mph" means or "132 miles ESE of Jacksonville" is.