Trump holds up doctored weather map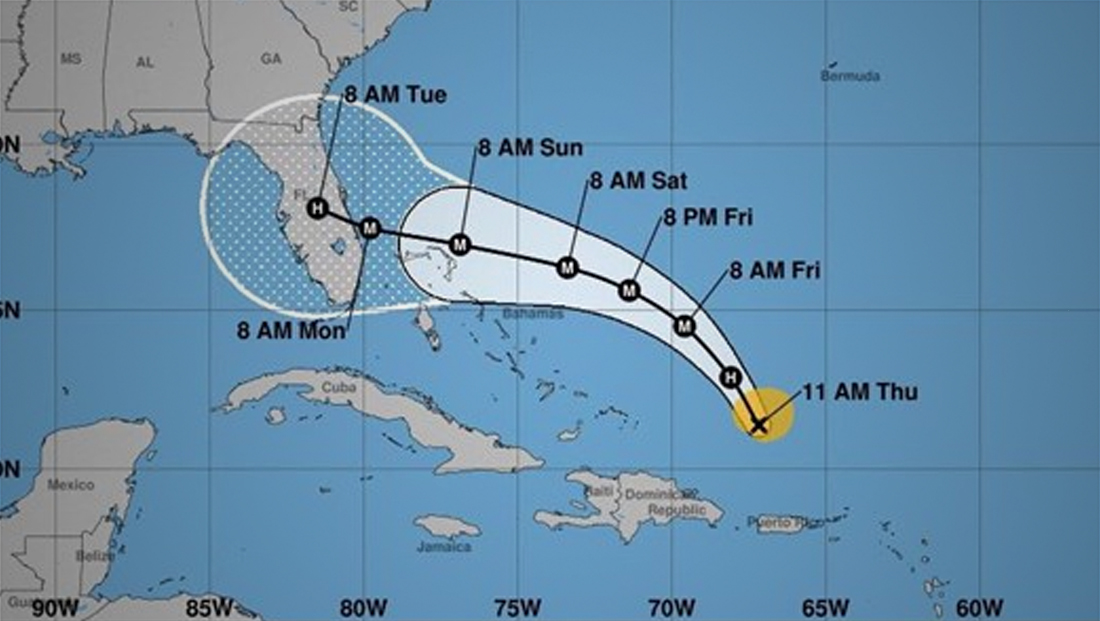 During an informal press event in the Oval Office Wednesday, Sept. 4, 2019, Donald Trump held up a NOAA weather map that had been doctored.
The map above is the original graphic the National Weather Service and NOAA issued Thursday, Aug. 29, 2019, showing the current projections of Hurricane Dorian.
However, the trajectory was updated multiple times over the weekend, so by Sept. 4, the map was substantially out of date.
In addition, the map had a black arc drawn around the end of NOAA's official path — that, if correct, would have extended into Alabama.
This all appears to be connected to Trump's trio of claims Sunday that Dorian would affect Alabama — even though the NWS emphasized multiple times that it would not based on new data and storm path projections.
It's not immediately clear why such an old map was used — other than the fact that it could, with a black marker, be more easily modified to support the Alabama claim.
Using a falsified and outdated government weather map or report could actually be a federal crime.
"Whoever knowingly issues or publishes any counterfeit weather forecast or warning of weather conditions falsely representing such forecast or warning to have been issued or published by the Weather Bureau, United States Signal Service, or other branch of the Government service, shall be fined under this title or imprisoned not more than ninety days, or both," reads the U.S. code.
The incident comes after Trump claimed that he wasn't sure if he'd ever heard of a Category 5 hurricane — when there have been three since he took office.
The latest in design, production and engineering
Subscribe to NewscastStudio for the latest delivered straight to your inbox.