How networks covered Dorian plus a variety of other stories Thursday night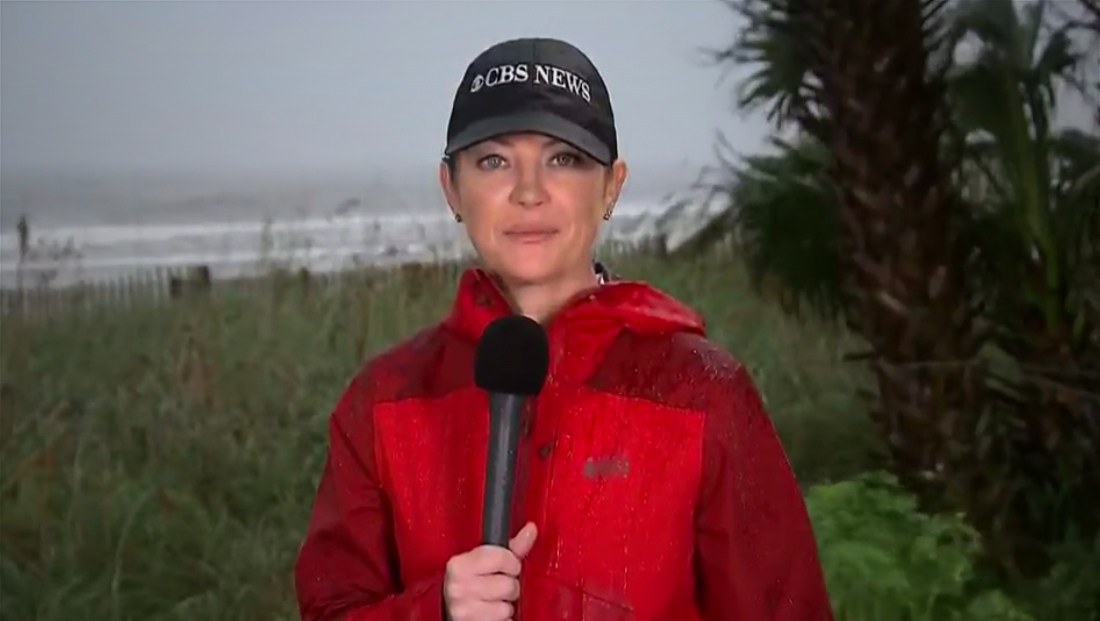 Hurricane Dorian coverage continued to dominate the network newscasts Thursday, Sept. 5, 2019.
'CBS Evening News'
Norah O'Donnell moved to Myrtle Beach, S.C. after being in Cocoa Beach Monday and Tuesday and Opa-Locka Wednesday. She's the only network anchor travel into the path of the storm.
Hurricane Dorian

Overview from O'Donnell
Jamie Yuccas in Charleston on flooding and power outages
Jonathan Vigliotti in North Carolina on tornadoes created by Dorian
Brief O'Donnell report on Bahamas damage
Nikki Battiste on Bahamas survivors
Relief supplies package from Errol Barnett
WBBM Chicago meteorologist Megan Glaros in New York with forecast update
O'Donnell voiceover on doctored Trump map and outdated maps showing Alabama would get hit by Dorian

California wildfires voicever by O'Donnell
Dive boat disaster update package from Kris Van Cleave
"Ghost ship" warehouse fire trial verdict voicever
Break 1
Teen vaping illness crisis with a package from Dean Reynolds
Break 2
Arizona police officer excessive force voiceover
Michigan State University fine in Nassar sexual assault scandal
Voiceover on first women to attain general in the U.S. army who are sisters
Break 3
Dorian update from O'Donnell
David Begnaud package on chef who delivers food to natural disaster victims
'NBC Nightly News'
"NBC Nightly News" anchor Lester Holt broadcast from New York.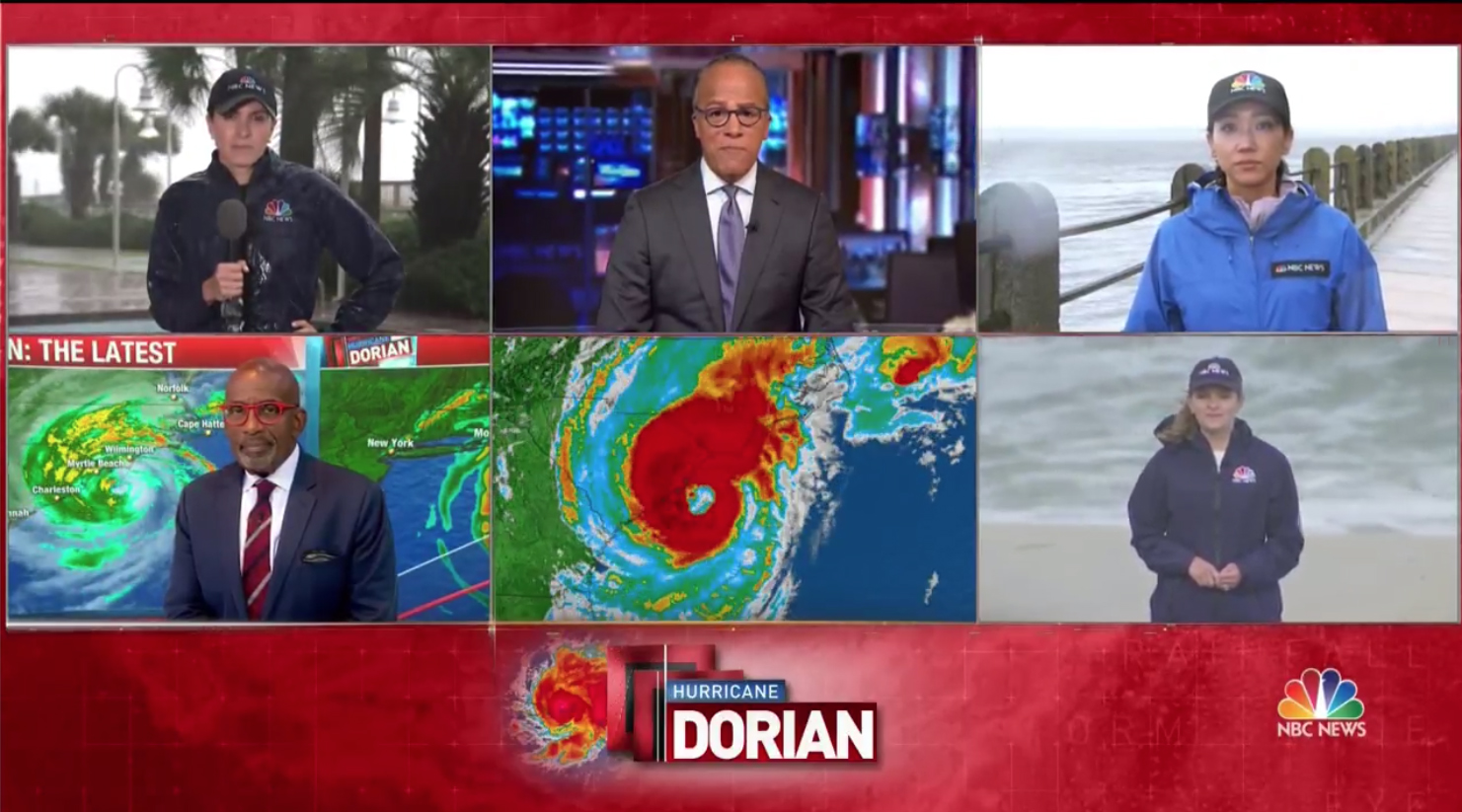 Hurricane Dorian

Overview of Dorian developments
Molly Hunter with a two camera standup and package in Myrtle Beach, S.C., also included tornado coverage
Hard cut to Kathy Park package from Charleston with no anchor intro
Al Roker update from Studio 1A
Catie Beck package from North Carolina
Bahamas package from Morgan Chesky

Joe Fryer update on "Ghost ship" warehouse trial; voiceover only
Open carry policy changes at CVS, Walgreens and Wegman's voiceover from Holt
Stephanie Gosk package on woman allegedly trying to smuggle a baby into the U.S.
"Justice For All" package from Holt on false confessions
Break 1
Anne Thompson package on visit to a "vape lab"
Break 2
"Inspiring America" package from Kevin Tibbles on high school football star living without arms
Break 3
Al Roker in-studio update on Dorian
Holt later offered a Dorian update and tease on "Justice for All" during the Bears vs. Packers game.
'ABC World News Tonight'
David Muir anchored from New York.
Hurricane Dorian

Overview on wildfires and Dorian from Muir
Steve Osunsami package from Charleston
Ginger Zee update from Myrtle Beach
Bahamas damage package from Victor Oquendo who traveled with supplies collected by ABC Miami affiliate WPLG

Kayna Whitworth package on California wildfires
Human trafficking charges on woman allegedly trying to smuggle baby package from Paula Faris with in-studio debrief
Another arrest in Jennifer Dulos case with Witt Johnson package
Dive boat investigation package from Will Carr
"Ghost ship" verdict voiceover
Open carry gun policy changes at retail stores voiceover
Mary Bruce package on Joe Biden laughing off recent gaffes and war story controversy
Break 1
Kevin Hart update package from Adrienne Bankert with drone standup
Break 2
"The Index"

Second vaping death in U.S. and research into compound in e-cigarettes
University of Michigan Nassar scandal fine
Kylie Rae Harris death

Break 3
"America Strong" first day of school package with Muir interviewing kids after their first day of school
Editor's note: Unless otherwise noted, all descriptions refer to network's first feed that airs at 6:30 p.m. eastern as aired in the Chicago market.
The latest in design, production and engineering
Subscribe to NewscastStudio for the latest delivered straight to your inbox.