'Nightly News' switches background look for final tease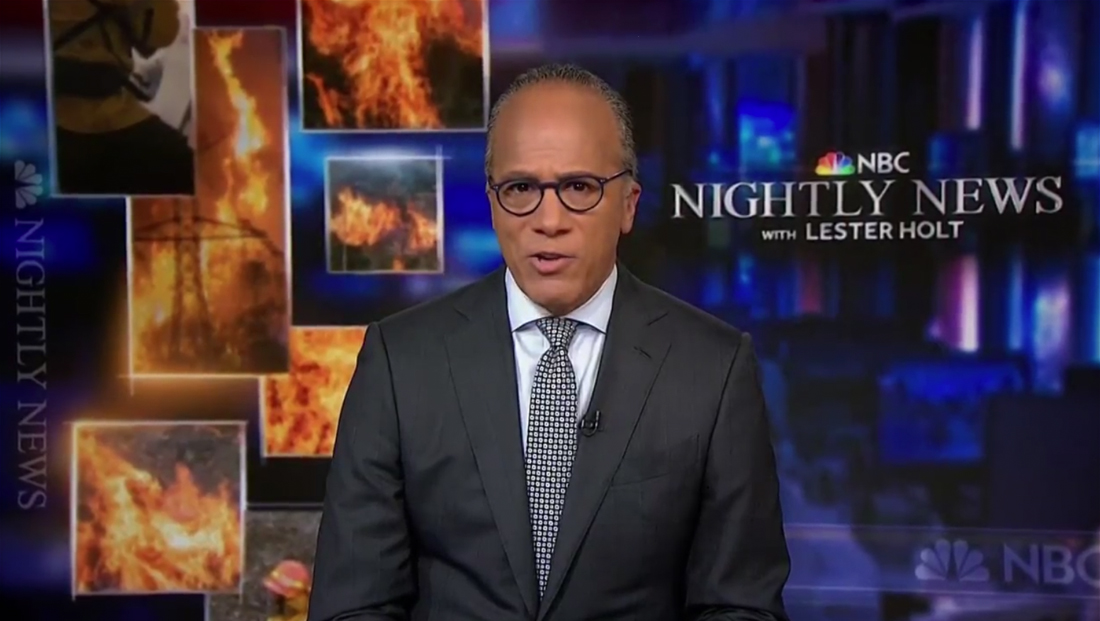 "NBC Nightly News" is tinkering with its teases — again.
The series of teases that air at the top of the broadcast, known internally as "headlines."
As it has for some time, the broadcast runs a series of video clips with anchor Lester Holt's voiceover running over it and a banner graphic under it.
The broadcast's standard format then cuts back to Holt, on camera in from of one of Studio 3A's video walls, for a final tease before the open runs.
Previously, the video wall graphic was typically a topical image that filled the entire visible area of the video wall.
Starting Thursday, Oct. 24, 2019, however, the broadcast switched to a blurred depiction of the newsroom near Studio 4E.
The broadcast uses a similar view of the newsroom as a generic background.
On the left side of Holt are a series of small square and rectangular images with laser line borders inspired by the broadcast's overall look and feel.
These graphics are still topical — such as the wildfire and holiday shopping ones used Thursday and Friday — but don't cover the entire video wall like before.
The stack of images also have a slight "scrolling" animation.
On the right side of Holt, meanwhile, is the show's logotype.
The format wasn't used Monday through Wednesday because Holt was anchoring from Los Angeles — from outdoors on Oct. 21 and 22 and the network's Los Angeles newsroom Oct. 23.
In late November, Holt anchored from Los Angeles in front of the network's working newsroom there and the network inserted the tile design camera left. as an overlay graphic.
The latest in design, production and engineering
Subscribe to NewscastStudio for the latest delivered straight to your inbox.