Why is ABC 7 Chicago using 'I-Team' branded impeachment coverage?

As most of the media world, WLS ABC 7 Chicago is offering its share of coverage of the impeachment inquiry hearings — but why is it labeling it under its "I-Team" investigative reporting franchise?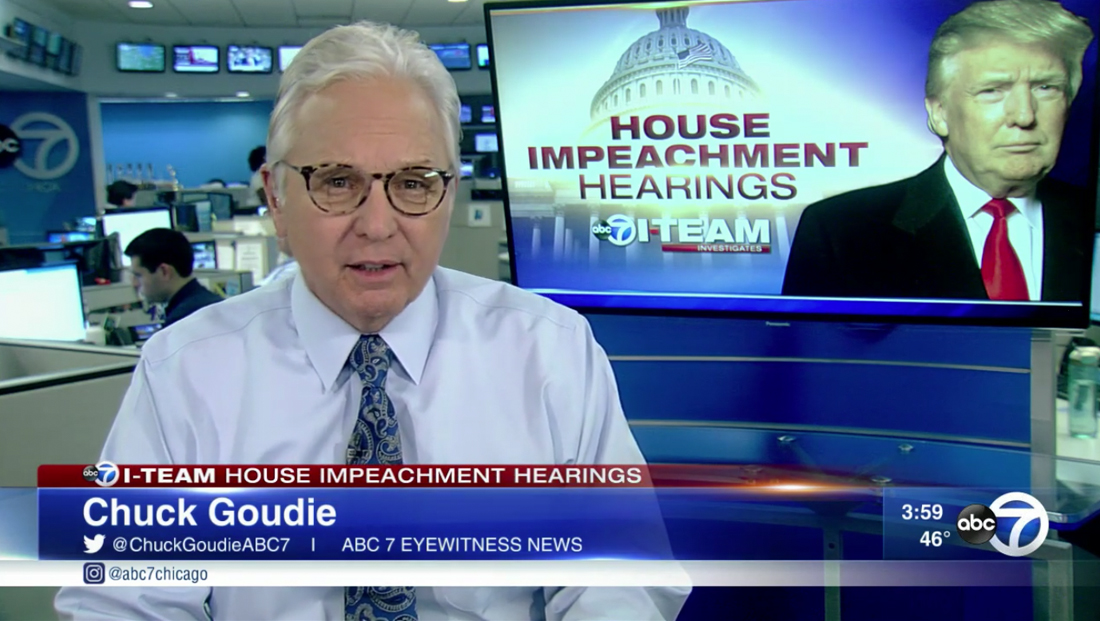 ABC 7 has been mainly having investigative reporter Chuck Goudie join newscasts from the station's flash cam position in the newsroom to basically sum up what happened during the hearings that day.
The segments use the "I-Team" stinger, flag on the lower third insert graphics and the logo appears on the OTS monitor behind Goudie.
However, this begs the question — what, exactly, did Goudie (or his producer) do to "investigate" besides watching the hearings?
(Unless "I-Team" has been temporarily changed to stand for "Impeachment Team.")
By most definitions, investigative reporting requires at least some original legwork — talking to sources, conducting interviews or, at the very least, adding a local angle — but Wednesday, Nov. 20 2019's "I-Team" report didn't appear to contain anything beyond what was being widely reported elsewhere (and with similar language).
Chicago NBC affiliate WMAQ did not lead with the impeachment hearings on its 4 p.m. show that same day — but later had political reporter Mary Ann Ahern deliver a live standup and package.
CBS affiliate WBBM doesn't air at 4 p.m. newscast, but on its 5 p.m., it didn't lead with the story either — and had anchor Brad Edwards toss to a recorded package from reporter Suzanne Le Mignot.
Neither NBC 5 or CBS 2 used their "Investigates" or "Investigators" branding — their equipment to the "I-Team," however.
Naturally, most of the video that appeared in all of these reports was taken from the cameras inside the hearing room.
The feed of these cameras are generally available to any broadcaster who wants them.
ABC, CBS and NBC all operate services that provide affiliates with content, including fully produced packages on stories of national or international interest that local stations can air as is, add their own voiceover, edit or even request customized live shots from the correspondent.
In total fairness, ABC 7 is hardly the first — nor will it be the last — station to brand a story as "investigative" when it probably really isn't.