Networks geared up Iowa caucus coverage Monday not knowing the chaos to come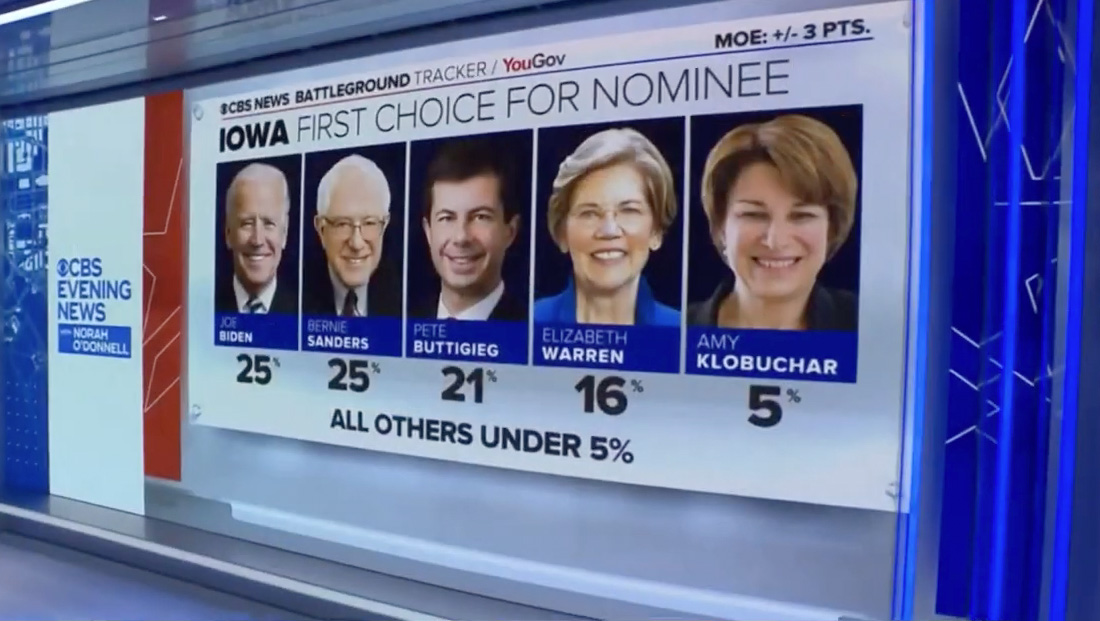 Just hours before the Iowa caucus results were expected to start coming in Feb. 3, 2020, all three network newscasts enthusiastically previewed one of the biggest nights of presidential politics — but without realizing the mess that was to come.
"ABC World News Tonight" anchored from Des Moines, with the state capitol behind anchor David Muir.
"NBC Nightly News" kept Lester Holt in New York, but plenty of on the ground coverage.
The network also used Studio 3A's video tower — which isn't as used as often — for bold "Iowa Caucus" logos in the "Decision 2020" motif.
Patriotic bunting was also added to the headers of some portions of the studio, while the "jigsaw" LED panels and vista video wall alcove displayed similar topical graphics.
Norah O'Donnell anchored "CBS Evening News" from Washington, D.C. using the studio's multiple video walls to showcase graphics and video from Iowa.
Editor's note: This article was posted Feb. 5, 2020, two days after the broadcasts in question aired due to some technical difficulties with our editorial systems Feb. 4. However, in the aftermath of the Iowa caucus coverage, these newscasts' "previews" of the events in Iowa ended up being somewhat ironic — so we felt it was newsworthy to post it even two days later.
The latest in design, production and engineering
Subscribe to NewscastStudio for the latest delivered straight to your inbox.