Chicago station rebrands its weather and traffic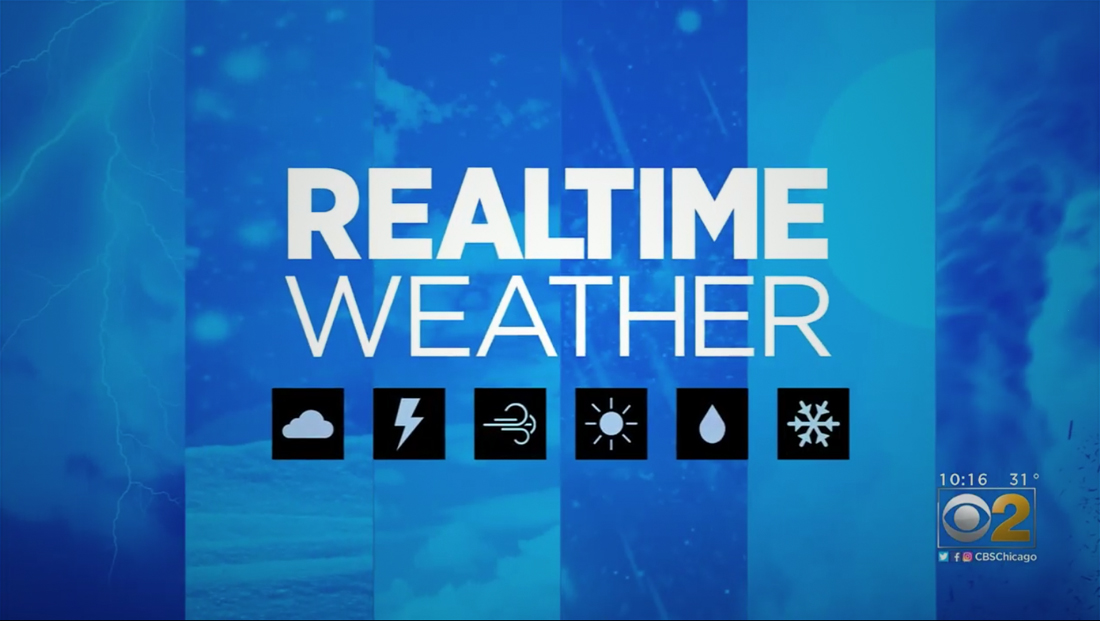 WBBM, the CBS owned station in Chicago, rolled out new branding for its weather and traffic.
The station began using the banner "Realtime Weather" at the beginning of February 2020 — with the matching name of "Realtime Traffic" introduced as well.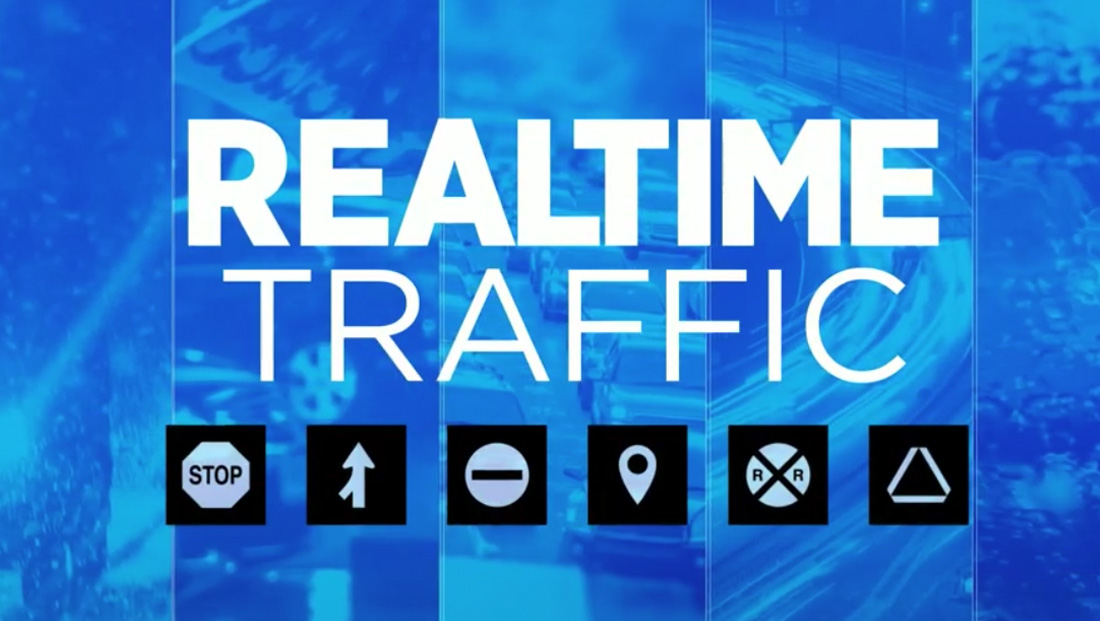 Previously, CBS 2 News branded used simply "CBS 2 Weather" — with the name "Weather Watch" mixed in during severe weather coverage.
Traffic was known as "Timesaver Traffic" before and the new name also comes with an "alert" option.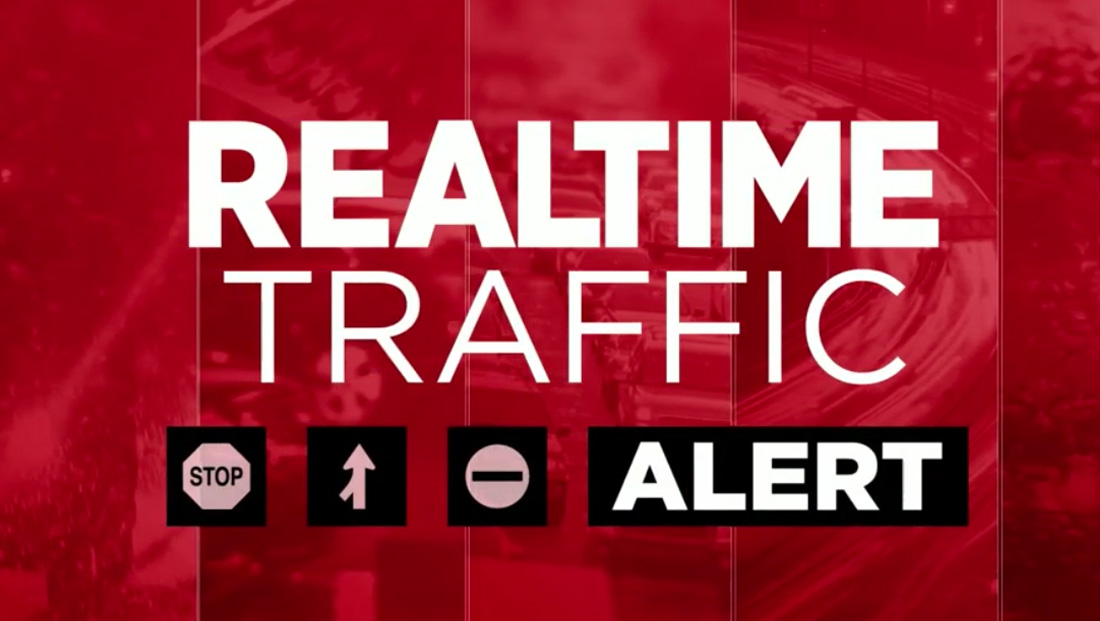 The station created a logotype in the Gotham typeface it uses elsewhere, stylized so that the "L" in "Real" and "T" in "Time" are butted right up against each other.
Below each logotype are small icons.
Over the course of the first week of February, the "Realtime Weather" branding has started to sneak into the station's weather graphics — while the "Weather Watch" name has popped up a few times as well.
In addition, the station also added a "Realtime Weather Alert" option that includes a red background.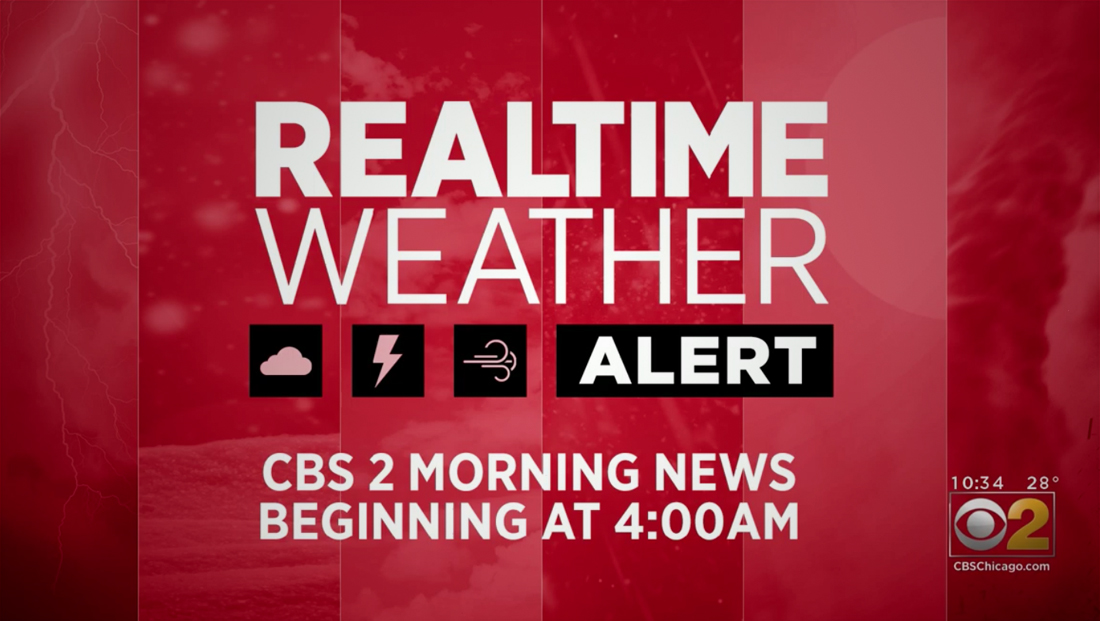 The move is similar rival WLS's use of "AccuWeather Alerts" and "AccuWeather Alert Days" on ABC 7 Eyewitness News.
ABC 7 branded its weather as "First Alert" from 2014 to 2017, when it switched to solely using the AccuWeather brand. Previously, the AccuWeather logo still appeared in select weather graphics.
WLS also relies heavily on its "Live Doppler 7 Max" S-band radar branding.
WLS doesn't directly brand its traffic reports — though it often uses the "Traffic & Weather" banner since the two reports are typically stacked next to each other.
That said, ABC 7 has a weather "brand" in the name Roz Varon — whose long tenure at the station has made her synonymous with traffic reporting. Varon is widely credited with inventing the concept of traffic reporting.
Over at NBC owned WMAQ, the station uses "Storm Team 5" as well as the "Most accurate" WeatheRate branding. Its traffic is known as "On Time Traffic."
It uses the "storm" theme for its "Storm Tracker" mobile weather truck and "Storm Ranger" mobile doppler radar truck that it shares with KXAS in Dallas.
WFLD, the market's Fox O&O, uses "Fox 32 Weather" and sometimes uses the "Weather Alert" branding as well — and its traffic is similarly branded as "Fox 32 Traffic."
WGN, the market's independent station, uses "WGN Weather" and "WGN Traffic."