'World News Tonight' comes back to NYC and another temporary setup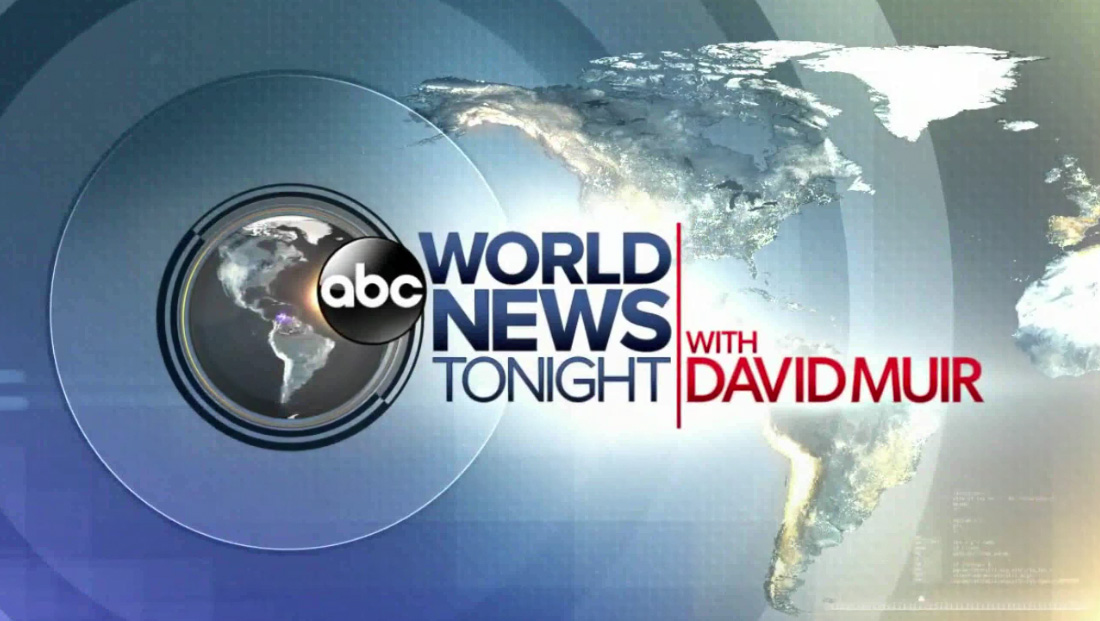 After a stretch of on the road newscasts, "ABC World News Tonight" returned to New York Wednesday, Feb. 12, 2020 from what appears to be another temporary setup.
While anchor David Muir appears to be back at the new anchor desk installed back in November 2019 and a large video wall background still remains behind him, the show has made a slight tweak to how it opens the broadcast.
Now, the control room remains on the fullscreen version of the animated title card for longer instead of fading to a wide shot of the studio with the video wall continue to play the animation.
The move appears to be to avoid having to shoot the studio wide, which ABC was doing on the previous temporary configuration that featured two video walls and small hard scenic elements camera right.
Here's how the open looked back on January:
Upon closer inspection, it appears the video wall behind Muir has either been upgraded or is positioned differently — because text headline that appears on the graphic behind appears slightly sharper.
For the past few weeks, Muir has been on the road, including stops in Washington, D.C., Iowa and New Hampshire.
Meanwhile, "World News Now," which shares the space with "Tonight," moved to the small ABC News Live set in early February.
Weekend editions of "World News Tonight," meanwhile, have been broadcast using tighter shots and traditional overlay OTS graphics.
ABC is in the middle of a "major" studio overhaul for both shows, according to "Now" anchors and industry insiders.
The network recently updated its special report look while also overhauling and expanding its streaming service ABC News Live. This also included the debut of "ABC News Live Prime."
Before that, "Good Morning America" introduced redesigned graphics in February 2019 and then moved onto a new set in April.
When the new "World News Tonight" look debuts, it will presumably be the latest in this string of broadcast design updates at the network.