CBS drove debate desk 530 miles overnight to 'Evening News' set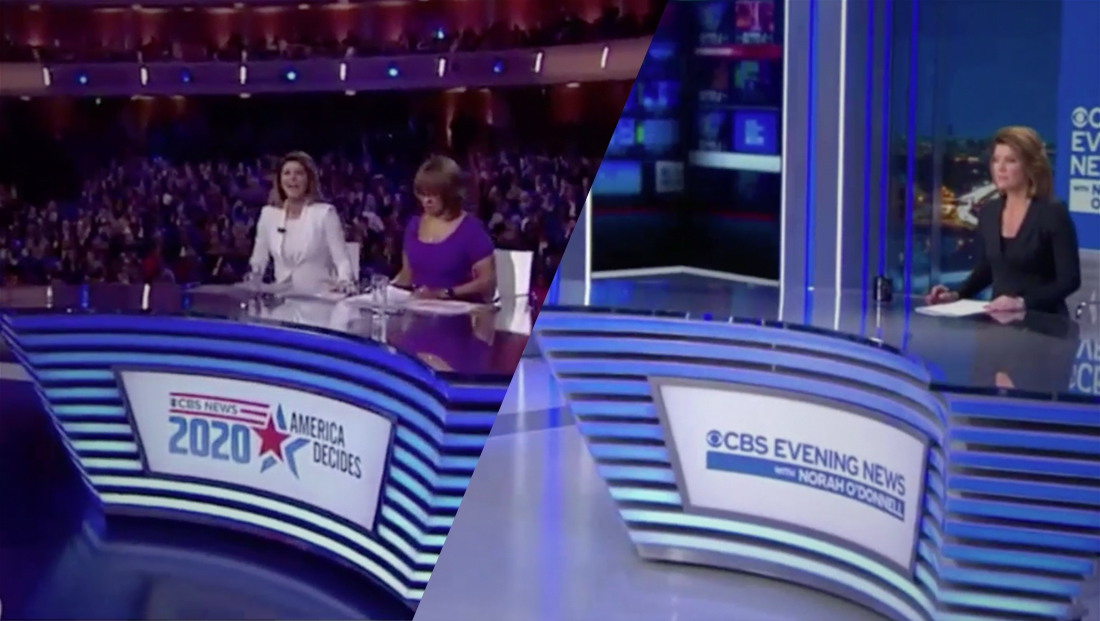 After wrapping production on the tenth Democratic Debate Feb. 25, 2020, the curved, flared desk that Norah O'Donnell and Gayle King used was loaded onto a truck in Charleston, South Carolina, and transported to CBS's studio in Washington, D.C. in time for Wednesday's "Evening News," according to a source.
That's about an eight hour drive over 530 miles, assuming no breaks, according to Google Maps directions.
In the Washington studio, O'Donnell was shown both standing next to and sitting behind the desk throughout the broadcast.
Unlike the oval desk that debuted with the set in early December, this desk is meant to have talent sitting on one side only, though it likely can be moved around the space as needed to take advantage of the studio's 360-degrees of scenery and video walls.
In Washington, the desk was positioned where the old desk normally was placed, however, the studio's riser with integrated LED video tiles was not used.
The new desk is also significantly more "solid" than the old look but notably strays from the metallic cladding with reveal lines of the old one that looked similar to the desk in the center of Studio 57, the broadcast's home before moving to D.C.
It also features alternating horizontal metallic and backlit grooves that tie in nicely with the edgelit glass and borders found on the Washington set.
It's not immediately clear if this desk will be used permanently or an experiment that the broadcast is trying out — something that's not uncommon for evening newscasts, especially in the months immediately following a new set debut.