Industry Feed
Blackmagic Design unveils product updates enabling cloud workflows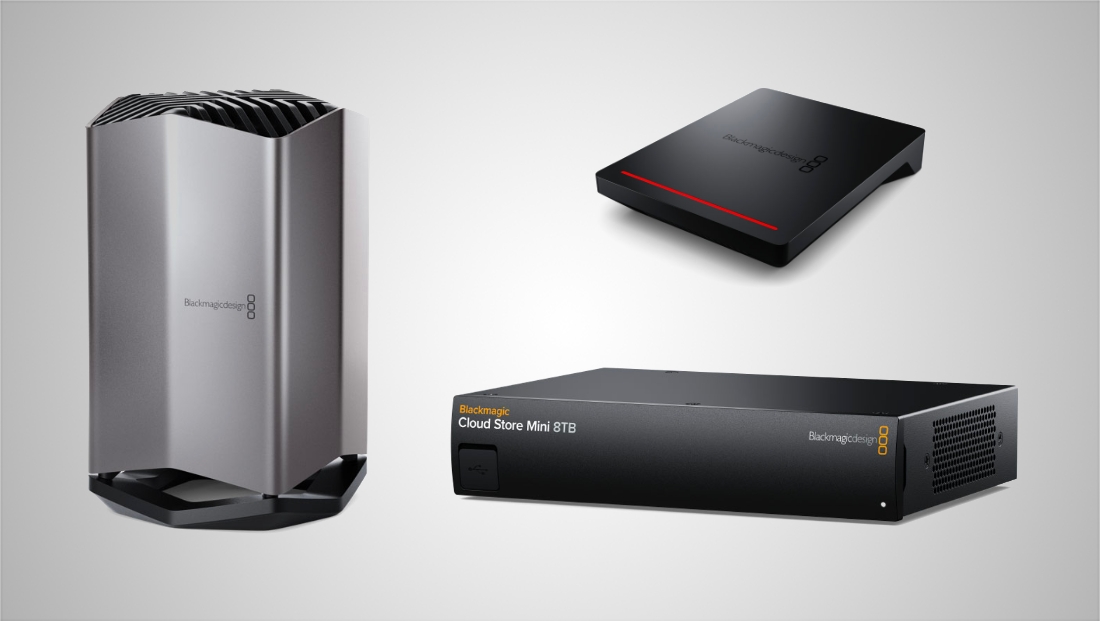 Ahead of the 2022 NAB Show, Blackmagic Design has unveiled a variety of product and software updates aimed at collaboration and cloud workflows.
DaVinci Resolve 18
DaVinci Resolve 18, a major new cloud collaboration update which allows multiple editors, colorists, VFX artists and audio engineers to work simultaneously on the same project, on the same timeline, anywhere in the world. DaVinci Resolve 18 supports the Blackmagic Cloud for hosting and sharing projects, as well as a new DaVinci proxy workflow.
This update also includes new Resolve FX AI tools powered by the DaVinci Neural Engine, as well as time saving tools for editors, Fairlight legacy fixed bus to FlexBus conversion, GPU accelerated paint in Fusion, and more. DaVinci Resolve 18 public beta is available for download now from the Blackmagic Design web site.
Blackmagic Cloud Store
Blackmagic Cloud Store is a new extremely high performance network storage solution with four 10G Ethernet connections and a parallel memory core that can sustain maximum possible transfer speeds on each 10G Ethernet port, all at the same time.
The Blackmagic Cloud Store features an elegant design that's been specifically designed for the requirements of the television and high end film industry. Blackmagic Cloud Store is the perfect network storage solution for any use. But it's perfect for film and television where large media files need to be shared between multiple users for editing, color correction, audio post and VFX work. It even handles massive 12K Blackmagic RAW digital cinema files. Each user gets zero latency and they don't need to store files on their local computer. It's the perfect solution for DaVinci Resolve.
Blackmagic Cloud Store Mini
Blackmagic Cloud Store Mini is a new network storage solution with the high performance of 4 M.2 flash memory in a RAID 0 configuration. With its built in 10G Ethernet, the Blackmagic Cloud Store Mini is extremely fast so it allows multiple users to collaborate on video editing in software such as DaVinci Resolve. Plus with Dropbox sync, multiple units can be synchronized across different geographic locations.
Blackmagic Cloud Pod
Blackmagic Cloud Pod lets customers use any USB-C disk as network storage. The Blackmagic Cloud Pod means customers can build their own network storage using USB-C flash disks they already own.
Features include high speed 10G Ethernet and Dropbox sync, so customers can cache files locally and share them with everyone on their network. Blackmagic Cloud Pod even includes an HDMI monitoring output for a real time view of the network storage status.
HyperDeck Extreme 4K HDR
HyperDeck Extreme 4K HDR is a new broadcast deck with advanced H.265 4K recording featuring a touch screen user interface with built in scopes and HDR screen. HyperDeck Extreme features the trusted reliability of HyperDeck combined with new innovations such as space saving H.265 files, optional internal cache, 3D LUTs and HDR support. With the ability to record up to 4K in H.265, customers get reduced storage costs and amazing image quality. The large touch screen ensures a perfect view of their recording as well as control over all deck settings. Customers can then add HyperDeck Extreme Control to transform it into a traditional broadcast deck. HyperDeck Extreme is the perfect solution for the next generation of broadcast, live production and digital signage.
HyperDeck Extreme also includes 2 media slots, 12G-SDI, analog connections for archiving, USB-C external disk recording, plus a front panel speaker and headphone jack. There's also an optional cache that eliminates dropped frames if their media becomes full or is too slow. Both AC and DC power connections are also included for studio or on location use.
HyperDeck Shuttle HD
HyperDeck Shuttle HD is a new recorder/player that's designed for use on the desktop as an on demand media player.
This new model supports recording and playback for ProRes, DNx and H.264 files as well as PCM or AAC audio. The unique design is dominated by a large metal search dial and traditional broadcast deck controls, so it's easy to quickly scroll through media. HyperDeck Shuttle uses HDMI connections so it's the perfect solution for use with ATEM Mini switchers. Plus SD cards, UHS-II cards and USB-C external disks can be used for recording and playing media.
HyperDeck Shuttle HD uses the same design as ATEM Mini Extreme, so it's a perfect combination to use as a media player. HyperDeck Shuttle HD also has a built in teleprompter.