ABC-owned stations launch basic 'safety tracker'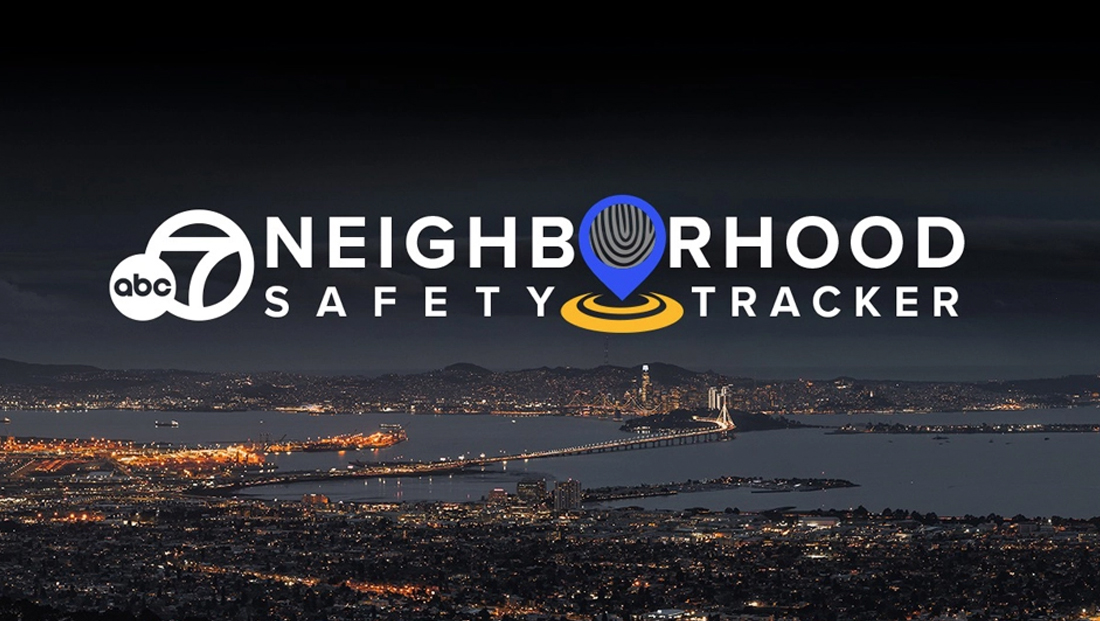 Subscribe to NewscastStudio for the latest news, project case studies and product announcements in broadcast technology, creative design and engineering delivered to your inbox.
ABC's eight owned stations in major markets have launched what it calls a "Neighborhood Safety Tracker," a data journalism effort to attempt to help viewers better understand crime and violence near where they live.
The impact pulls in data — past and present — from local law enforcement agencies and breaks it down in various visual ways.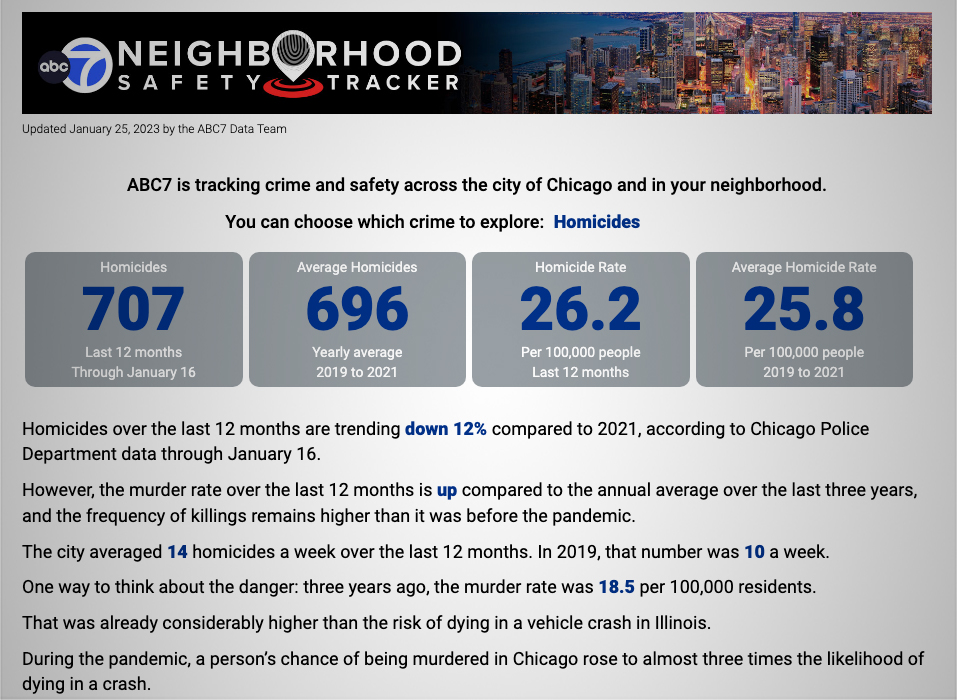 For example, in Chicago, viewers can choose between homicides, batteries, vehicle thefts, burglaries, robberies, sexual assaults and thefts — through the site's design. It is difficult to tell that the bold blue "Homicides" above the gray boxes is a dropdown menu selector.
Raw data is shown prominently across the top of the screen followed by a brief breakdown of how crime trends have looked in the most recent 12 months compared to the same period the year before. At least some of the points made in this section do not appear to have sources cited.
Estimates also included, at least for now, how the pandemic appears to have affected certain rates, which is an important distinction to make.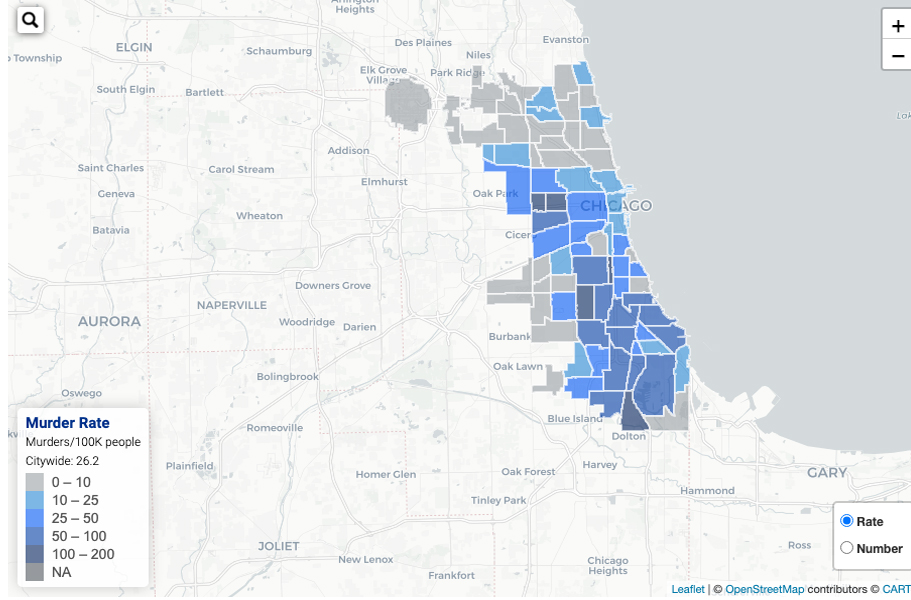 There is then a customized map from OpenStreetMap with color-coded regions or neighborhoods illustrating the number of each incident. Clicking on one gives more information for the previous three years of data, followed by a 12 month rolling tally plus a three-year average. Each of these datapoints are also listed on a per 100,000 people rate.
Like many maps likes this, the darker the color, the higher the count or rate, though any region with the lowest tier of data is shown in gray. Although ABC provides a key that clearly indicates what that shade means, the widespread use of gray on maps to designate "no data" or "no results," in the case of election data, is a bit confusing.
A vertical bar chart shows the trends going back four years.
There is also a horizontal bar chart that compares each market to other major metropolitan areas on the basis of "violent crimes." In other words, this data is not broken down by the categories outlined above. This data relies on 2021 figures, which is presumably the latest data viable from the FBI source identified.
Overall, the effort is a strong way to help viewers break down a complicated and controversial topic visually.
While most of the data seems straightforward on the surface, it will be important for ABC stations to continue add context and explanations where necessary since there can underlying factors in all of the data.
The offering doesn't quite come to the level of other noteworthy data journalism efforts, including those during elections by most major networks, and FiveThirtyEight, which is owned by ABC News.
That site, which focuses on politics, science and sports, may be up for sale as the network looks to make significant cuts. The site has reportedly never made a profit and founder and top stats guy Nate Silver's contract is up later this year.
While expecting data journalism on the level that FiveThirtyEight does could be a pretty big ask, this initial release of the safety tracking tool has significant room for growth — and that very well may be ABC's plan: Start small and grow and iterate from there.
To brand the new offering, the stations are sharing a two line logo design with the word "Neighborhood" in a larger, all caps typeface. The first "o" in the word has been replaced with a map marker with what appears to be the lines of fingerprints inside. The entire icon sits on top of marks presumably meant to illustrate the idea of signals and data being sent out. Colors can vary based on market or application.
The design can have each station's logo included to one side and notably uses Proxima, a typeface that is expected to roll-out groupwide as it prepares to transition to an updated share graphics package.
No date for that launch has been set.
Subscribe to NewscastStudio for the latest news, project case studies and product announcements in broadcast technology, creative design and engineering delivered to your inbox.