'Tug of Words' gets colorful update with toned down 'rope'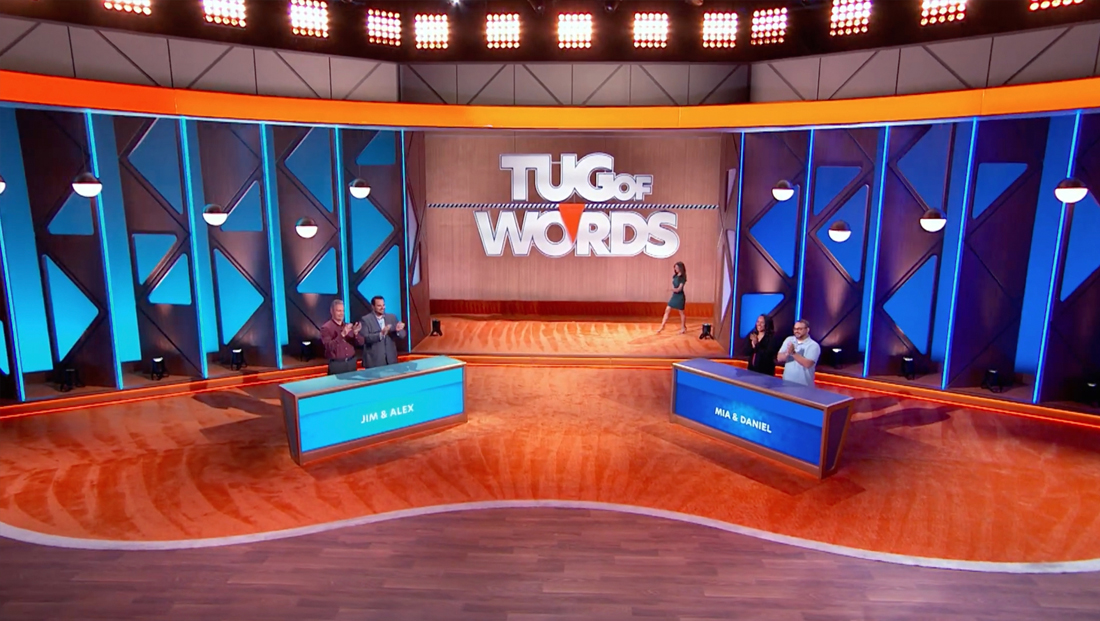 Game Show Network's "Tug of Words" game show updated its set earlier this season, shifting from a clean, almost sterile look to a warmer feel with a hint of retro while retaining the visual cues to the back and forth of the game.
The new set, along with the original design, are from Jeff Hall at JHD Group.
The triangular shapes suggestive of arrows remain throughout the set, though it appears the header is the only element that did not change significantly.
The camera left and right walls, meanwhile, have been transformed by taking the vertical panel concept and separating and rotating each of them to form more of a screen-like look that allows the light-washed walls behind them show through.
Uplights and circular pendants have been added that, when combined with the geometric look, give the set a retro feel.
The antiseptic white floor has been swapped out for orange shag-like carpeting and faux wood.

The carpeting is installed in a kidney bean shape before transitioning to wood. Vacuum lines across the spread of orange add additional texture and, when combined with the retro light fixtures and geometric patterns, gives the feel of a rec room.
The center of the set continues to utilize a seamless video wall as its primary background, including a simulated wood wall and footer element.
A significant change in the set from the original look is that the contestants now stand behind their own, LED-fronted credenza-like pieces, rather than one long, continuous one.
This means that the design of the digital rope being "tugged" back and forth by contestants is slightly different, with only half of it displayed on each side, though fullscreen graphics show the full version.
While the change does seem a bit counterintuitive for a game show that's basing much of its premise on the playground game of tug of war, which requires, by definition, a single continuous rope with a flag in the middle, it does open the opportunity for host Samantha Harris to stand next to contestants, as opposed to having to stand behind the LED ribbon.

The old design also appeared to be using COVID-19 spacing standards between both the contestants and host, which could have led to the old design.
In some ways, that old look felt a bit too sprawling (like many COVID-19 set adaptations that various shows made), though it also tied in well to the whole theme of the show.
"Tug" is produced by Embassy Road and Game Show Enterprises, the latter of which is the production arm of GSN aimed at providing the network with original programming.
The latest in design, production and engineering
Subscribe to NewscastStudio for the latest delivered straight to your inbox.