Industry Insights: Adapting skills and technology for next-gen robotic camera systems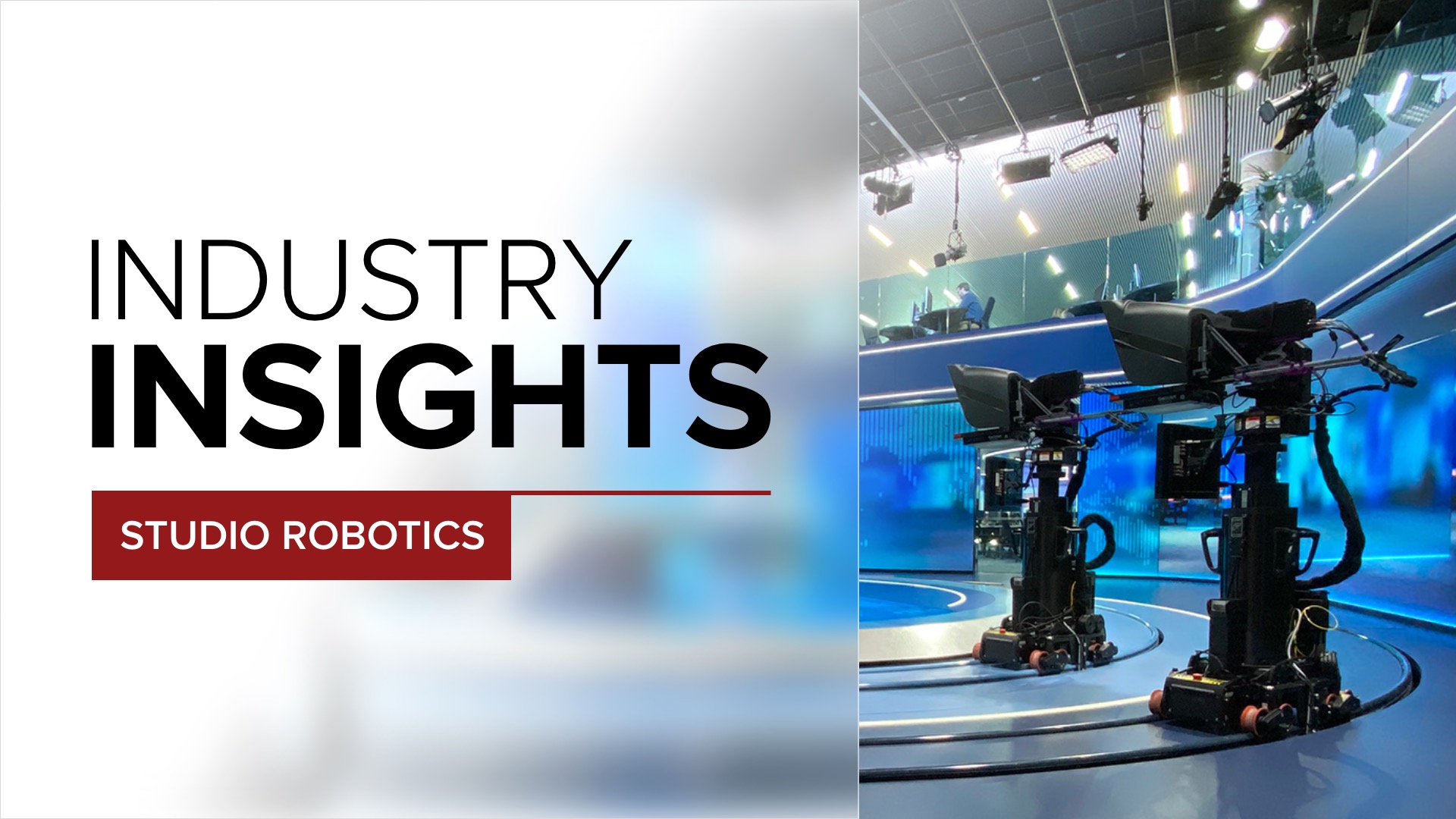 Subscribe to NewscastStudio for the latest news, project case studies and product announcements in broadcast technology, creative design and engineering delivered to your inbox.
In this second installment of our Industry Insights roundtable on broadcast studio robotic camera systems, we delve deeper in the trends emerging today and robotics are enhancing production quality to enabling more creative storytelling.
We investigate the opportunities robotics present in novel applications, the evolving needs for smaller, quieter equipment and the new skill sets required in this rapidly changing landscape. The conversation also taps into the voice of customers, uncovering their current demands and expectations from robotic technologies.
What opportunities exist for using robotics in new ways?
Karen Walker, VP of camera motion systems, Ross Video: Robotics are being used in a variety of applications, whether it's for speed, efficiency, consistency, or remote production. Having operators control cameras from different locations allows for efficient and consistent news briefs/infills. As robotic cameras become smaller and faster, they can be used to enhance products, add second-screen applications, and add footage to enhance the story. A spidercam is a great example where it provides more creative shots to enhance the production and can keep up with the action.
Michael Cuomo, engineer, Telemetrics: What we're seeing now with customers is we've always traditionally been involved in producing heavily scripted broadcasts. For example, TV news studios. We've expanded into live or auditorium type of spaces, talk shows, etc. We offer a product called reFrame Server, whereby it extends the capabilities of AI-assisted talent tracking to up to five cameras simultaneously.
Neil Gardner, senior product manager of robotics, Videndum Production Solutions: The use of robotics has traditionally been restricted to well-structured productions. New technologies allow the robots to automatically adjust to changes, accommodating more dynamic content. As a result we're seeing robotics used in productions previously considered as unsuitable because of their less predictable format, such as game shows.
Paddy Taylor, head of broadcast, Mark Roberts Motion Control: Robotics can also be used to improve the efficiency and safety of broadcast operations in a variety of ways. For example, our remote robotics like the POD and SR-1 allow camera angles to be captured where it is not possible for a human to go such as a ceiling or high up on a stadium roof.
James Eddershaw, managing director, Shotoku: We are constantly amazed by the many different ways our customers want to use broadcast robotics. Whether it's a traditional studio floor camera, a ceiling rail system, or a remotely installed camera on the other side of the country. No two customers have identical requirements so we must ensure our systems can adapt to whatever customers want to throw at them!
How are manufacturers addressing evolving needs like smaller footprints and quieter operation?
Karen Walker: In general, the robotics used in studios are quiet; they have to be. Size is also important, as cameras have become accepted fixtures on-air. Compact PT heads prove versatile, finding applications beyond the studio setting. For instance, in newsrooms, reporters can swiftly deliver updates in their environment without the constraints of a traditional studio setup, enhancing the adaptability and efficiency of these systems.
Michael Cuomo: Telemetrics makes a line of compact robotic pan/tilt heads, the PT-CP-S5, and a self-contained RoboEye 12G 4K system that fit nicely in space-constrained environments and are designed to accommodate smaller cameras, even DSLRs for nature photographers. For us, developing new robotic systems is not only about smaller footprints, but also blending into the environment. So yes, smaller. Yes, quieter, but also aesthetically blending into the set.
Neil Gardner: This has always been a consideration for us because facilities vary across the world. Our product design minimizes the number of moving parts to reduce the number of components that can create noise and all products are tested for acceptable noise levels in a sound-deadened room before shipping. Other features, such as adjustable bases on Elevation Units acknowledge the growing use of non-specialist facilities by allowing the equipment to be repositioned through standard doorway thresholds.
Paddy Taylor: For us, the use of robotic arms is a way of creating far more impressive movements with a smaller footprint on a much more consistent basis. Our Studiobot robotic arm is a solution that can address the issues that are caused by cranes or jibs relatively limited range of motion, and manual operability, which inevitably led to inconsistent shots.
James Eddershaw: The need for smaller, inobtrusive robotic cameras has always been a key requirement. With every new development it is important to balance the contradictory demands of small physical size, core mechanical stability and long term reliability. Such as looking at the latest digital servo technologies to get the most power from the smallest package, while ensuring years of trouble free operation in a 24/7 live broadcast operation.
What new skills are required for technical directors, operators and other users to master studio robotics?
Karen Walker: I don't think new skills are required; it's more about letting creativity flow and users trying new shots with the robotics. We're dedicated to simplifying robotics control, empowering operators to effortlessly capture the creative shots envisioned by directors. Our focus includes introducing features such as MotionDirector for seamless sequences tailored to enhance the show, AI capabilities for precise talent tracking, and flexible configurations that adapt the robotics to the operator's preferences.
Michael Cuomo: Production people are being asked to do more today than ever before. Previously they would have just been asked to handle the robotic controls and now they're being asked to do the robotic controls and being asked to do camera shading. Sometimes they're also having to control audio and other parts of the production. So, I think that's where it's really important that the robotic system is easy to use and quickly accessible to perform robotic moves.
Neil Gardner: On the contrary we're working to reduce the level of skill required, to extend robotics operation to a wider team of people. We don't see why a director shouldn't be able to control robotics when necessary, particularly with the implementation of voice controlled systems. Building on the lessons learned during Covid, this allows facilities to run with fewer people on site, ensuring studios can always be brought to air for breaking news events or emergency situations.
Paddy Taylor: Getting familiar with the rise of AI and the advantages of computer vision driven software. Our tracking solution Polymotion Chat is an example where three or four camera positions can be automated and tracked which does the heavy lifting and allows the operator to focus on control and creativity.
James Eddershaw: In fact the trend is to simplify the operation, and include as much automation in the workflow, so mastery of the system should be well within the existing skill sets of most staff members within the control room. We strive to make learning to use the system as quick and easy as possible.
What are you hearing from customers today?
Karen Walker: Customers continue to look for quality solutions that can be relied on every day, 24/7. They are also looking for more automation and preventive solutions, and finally, easy integration with equipment from various manufacturers.
Michael Cuomo: Increasingly, we are being asked to not only just talk about the robotics, but other devices that the robotics are touching. So consulting on cameras, lenses, teleprompters, and being able to offer that as a full turnkey solution is, is really beneficial for them. They know if they're going forward with the robotic solution, they feel comfortable with everything that's going to go along with it.
Neil Gardner: We are often asked for the ability to run studios more efficiently. Employing automation allows customers to compete more effectively by producing a wider variety of content with the existing workforce. More and more studios are also being asked to integrate their robotic control system into the corporate network, which introduces the need for security features such as encryption, and the ability to operate within the enterprise infrastructure in accordance with IT policies.

Paddy Taylor: Broadcasters are under pressure to save money, so they are investing in flexibility and automation through robotics. This allows them to do more with less, by reallocating staff members to be able to operate multiple channels through software and workflows from a single location.
James Eddershaw: Customers continue to face economic challenges which makes the use of robotics and greater automation more important than ever. Without exception our customers demand ease of use, rapid return on investment, and dependable reliability over many years of use.
Subscribe to NewscastStudio for the latest news, project case studies and product announcements in broadcast technology, creative design and engineering delivered to your inbox.