Lights, camera, action! News set design in movies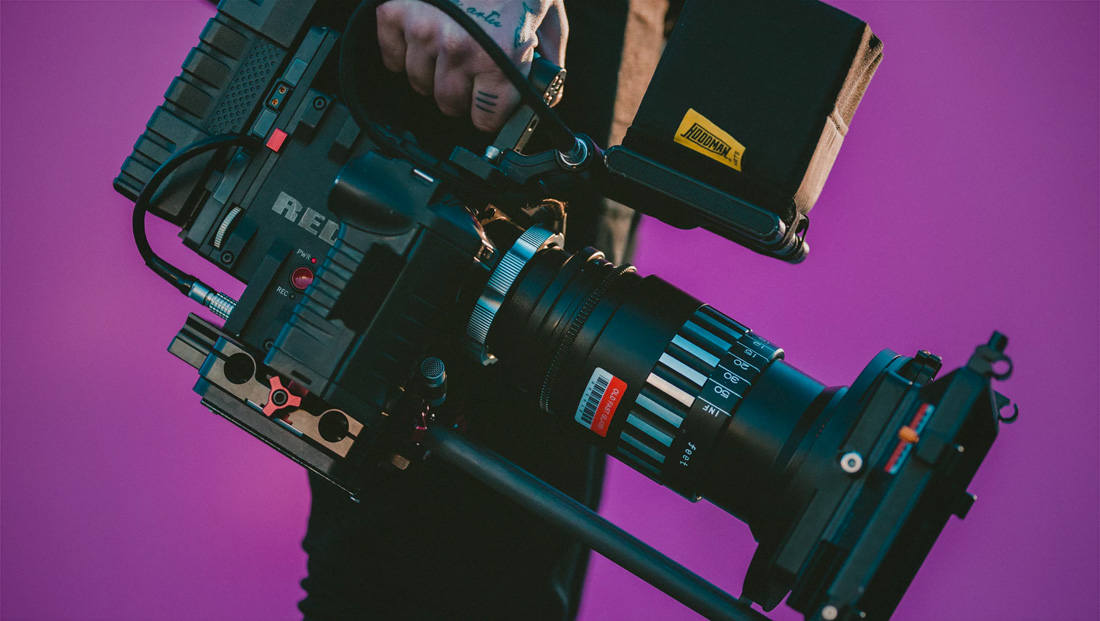 Subscribe to NewscastStudio for the latest news, project case studies and product announcements in broadcast technology, creative design and engineering delivered to your inbox.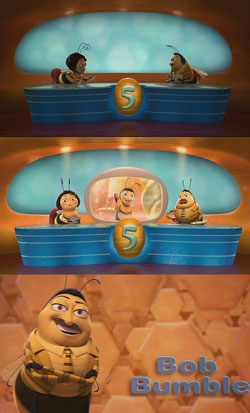 "Bee Movie" starring Jerry Seinfeld has an interesting take on set design.
One of the movie's scenes includes a newscast.
The animators drew inspiration for their hive-housed news set by including a wide anchor desk with channel number on the front and a pop-up "plasma screen" that appears between the anchors.
The movie also makes use newscast-inspired reopen shots with the bee talent, as well as animated bee that named Larry King, voiced by the real Larry King himself. The animators even included King's familiar world map background, which Seinfeld's character references specifically in the dialog.
This cute, albeit non-human, look at set design in the movies made us think of some other sets that appear on screen.
Spoiler warning: This post does reference movie plots, though we've made an effort not to give away any surprise endings where possible.
"Anchorman"
The film "Anchorman" is a quirky and over-the-top (but pretty funny) look at the TV news industry.
The main set used in the movie's San Diego station features a very 1970s-looking news set that showcases legendary anchorman Ron Burgundy (Will Farrell).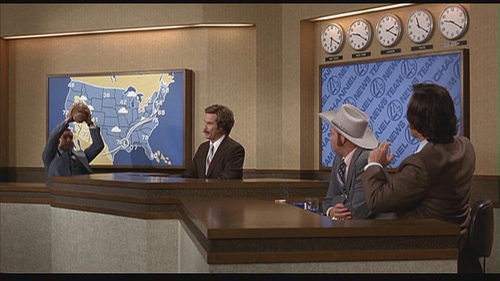 The huge anchor desk features small cubicle-like areas for the talent to sit in, as well as a classic blue background with world clocks mounted above. The non-chroma weather board completes the film's homage to the 70s era of television news.
Though it appears the set was designed for one person at the center position, when Burgundy's lover/arch nemesis Veronica Corningstone (Christina Applegate) is promoted to the co-anchor, the set easily adjusts to accomodate a two-shot.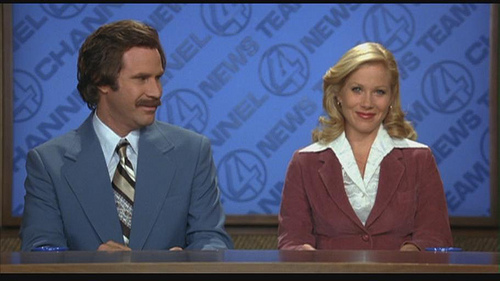 In the movie's epilogue, Burgundy and Corningstone both move on to become anchors of a national newscast. The set for this program is a bit more modern and adds a chroma key wall. However, the film's production designers show their experience in news set design by placing the large "World News Center" logo directly behind the anchors, creating a visually jarring background where the logo doesn't read on screen easily.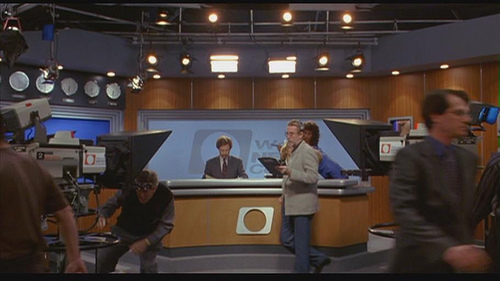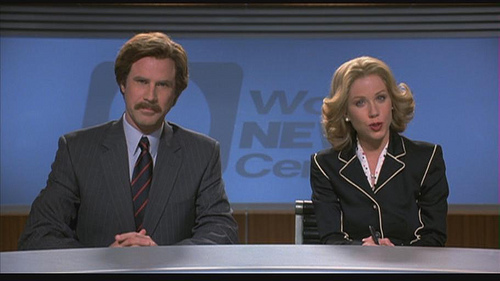 "Back to You"
Fox's new sitcom starring Kelsey Grammer and Patricia Heaton takes viewers inside Pittsburgh's WURG-TV.
To start, the call signs do show a bit of creativity and comedy by combining the "U-R-G" letters from the city's name into call signs that sounds like "urg" when read as a word.
The show's news set draws inspiration from many of today's news sets. The simple use of a cityscape background is used around the country, while the set's wood paneling with reveal lines is also a popular trend is real-life news set design. On camera left and camera right, the show's designers incorporated plexiglass metal framing, another common element in set design.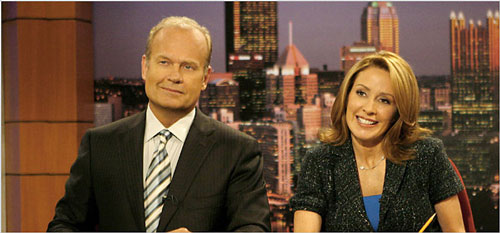 One area this set is faulty, however, is the camera shots used. Often when one anchor appears in a one-shot, the other's shoulder is visible in the frame, even in 4:3 shots. In today's digital world, this is a big no-no.
Elsewhere, WURG-TV's newsroom is a bit unrealistic in that there seem to be a bit more private offices than you'd normally expect to find in a TV newsroom.
"Mad City"
John Travolta and Dustin Hoffman starred in "Mad City," a television news-themed film that gave audiences a frank and honest look at the media circus phenomenon.
The small local station where Hoffman works when he mistakenly stumbles into a news-making hostage situation uses a bright green and yellow set, which is an interesting choice, though it is an effective way to show the stark difference between big and small markets.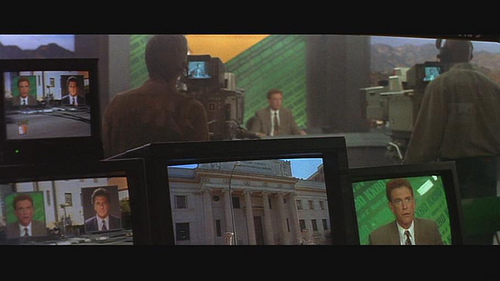 At the station's network mothership, a much more sleek set is used for Alan Alda's character. This is actually one of the best designed sets I've seen in a movie and is designed as a combination of working newsroom and studio set. The fully-designed environment is centered around a world duratran and wide, contemporary anchor desk, but also includes many areas that aren't used in the movie, though they clearly could be used as standup or alternative reporting locations.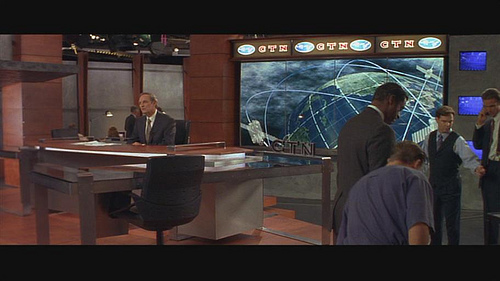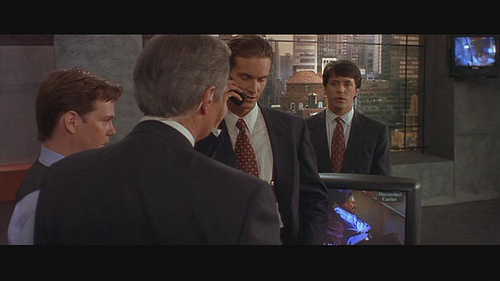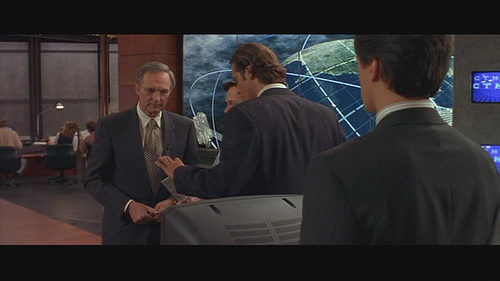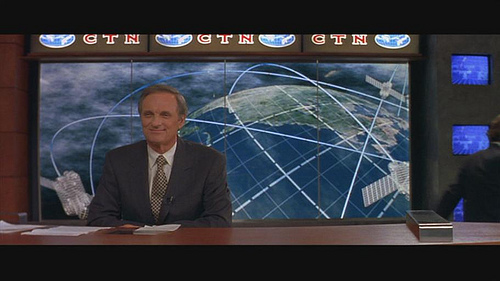 "Deep Impact"
"Deep Impact," an Elijah Wood science fiction drama focuses heavily on the storyline of MSNBC reporter-anchor Jenny Lerner (Téa Leoni). This film marked MSNBC's debut and, to date, only high-profile appearance in a movie. Since the bulk of Lerner's story takes place in Washington, D.C., the producers seem to have taken the liberty of moving MSNBC's main headquarters to the capital city (at the time it was still in Secaucus, N.J.).
The main set used in the movie is actually quite different from MSNBC's typical style. The studio is placed in a standard-issue office building and uses a rather bland and cluttered newsroom as its background. The small set features a plain anchor desk with a medium-sized rear projection unit that's used for OTS graphics.
Speaking of graphics, this is one area where the film's producers did stay faithful to MSNBC's on-air look. The full screen and L3 graphics used in the movie are dead ringers for the graphics MSNBC was using at the time, including the "special report" title card.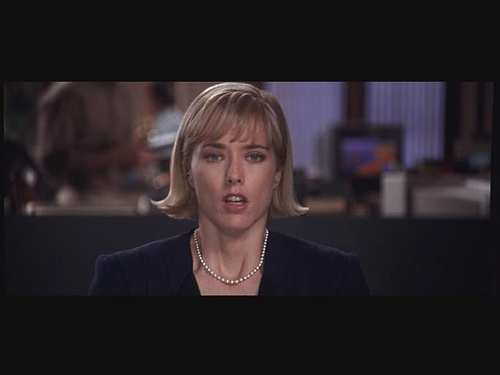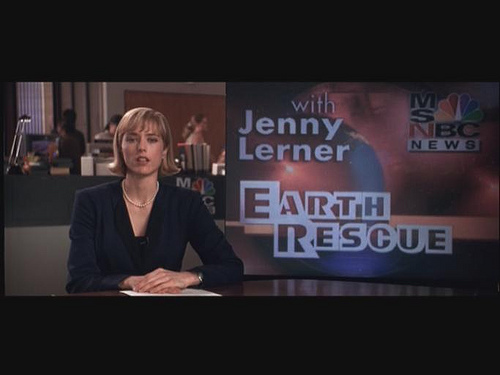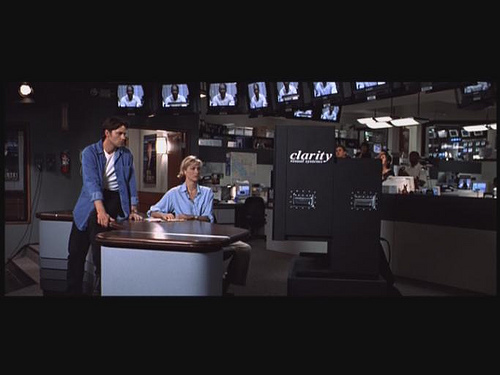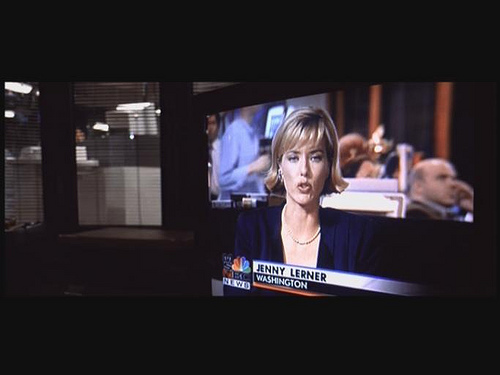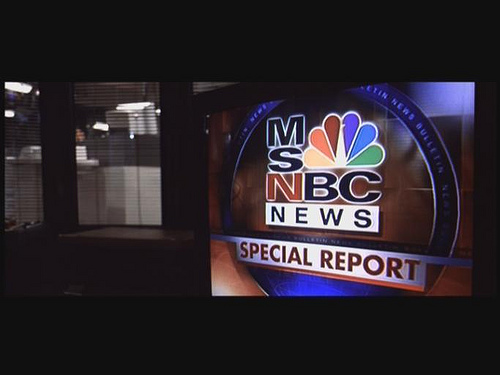 "Up Close and Personal"
"Up Close and Personal" is a romantic comedy starring Robert Redford and Michelle Pfeiffer tells the story of an ambitious young woman named Sally turned Tally Atwater as she rises from desk assistant to network anchor (Atwater unexpectedly has her name changed from "Sally" to "Tally" by Redford's character, Warren Justice, to make it more memorable to audiences).
Throughout Atwater's career, viewers are treated to several sets, each reflecting the local market's sensibility and size.
For her first TV job, Atwater lands a job at WMIA-TV in Miami, Fla. (another fictional call sign that is derived from the city name). The station uses a sprawling complex that joins the newsroom and studio on one level and control rooms looking down from a mezzanine. The color scheme is decidedly bright, with pinks, yellows and bright blues playing a key role.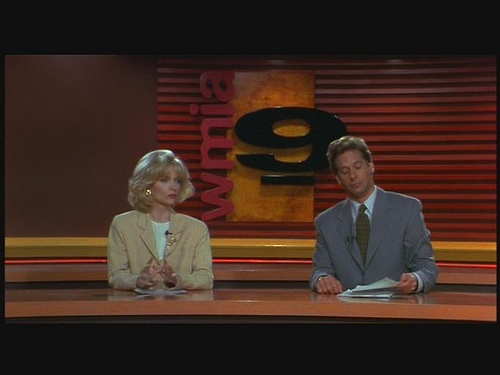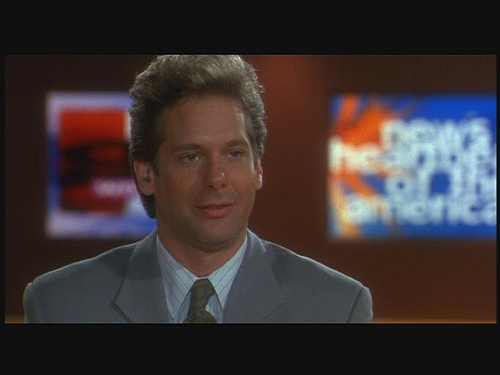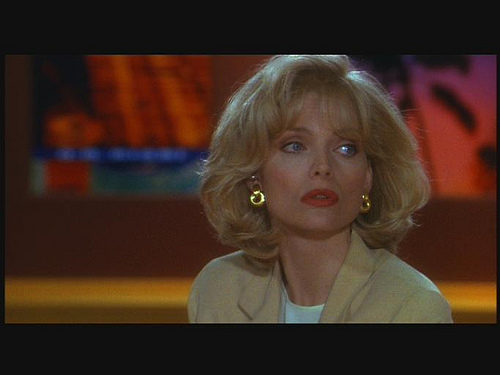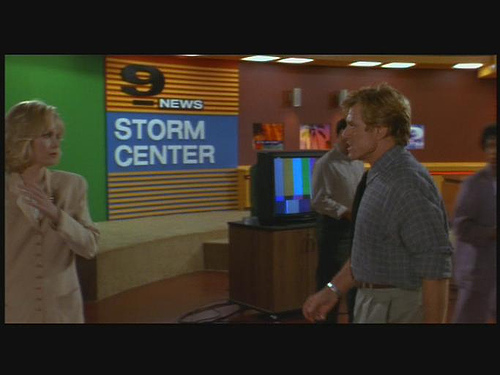 From Miami, Atwater makes a big market jump to WFIL-TV in Philadelphia (yet another creative take a city name). This set is much more conservative, using a monotone gray color scheme and subdued dura. The set area includes a small work area and some auxiliary set areas as well, though the main newsroom is in another part of the building.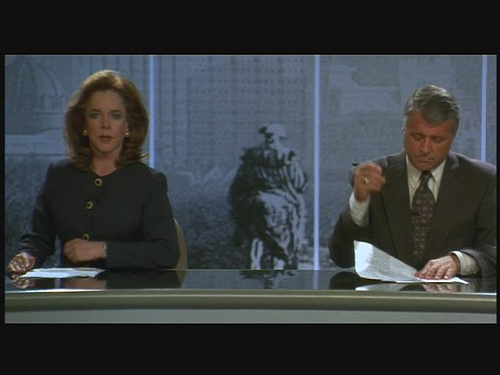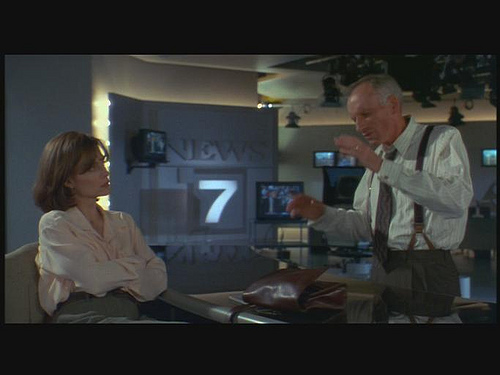 From Philly, a big break takes Atwater to the network, ironically named IBS. The main network news set is a part virtual, part real set with a giant curved chroma key wall and rounded anchor desk. It's interesting to note that the film has several instances where camera moves are shown on-air, though it's not inherently clear that there is any advance camera tracking being used to accommodate such technology.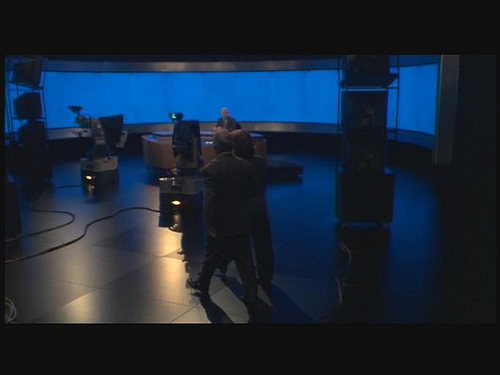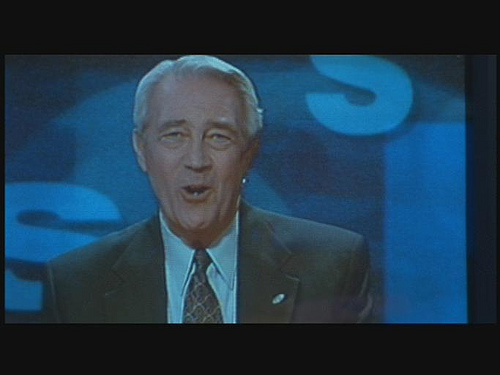 "Broadcast News"
Starring Holly Hunter and William Hurt, "Broadcast News" is another honest look at the ethics, pressure and advancement in TV news.
One of the sets used in this movie includes a free-hanging world map made out of a metallic-like surface with a solid background behind it. This setup proves a downfall when a crew member runs into it during a live show, causing it to swing wildly in the background until a hand reaches into the shot to steady it.
Also included is a newsplex set that's home to network anchorman Bill Rorich, played by Jack Nicholson.
Real life stations
It's also not-uncommon for real-life stations to show up in films. In "Bruce Almighty," WKBW-TV, for example, is the station where Jim Carey's Bruce Nolan works at in Buffalo, N.Y. However, only the station's logo was used; the set shown in the film was built specifically for the movie.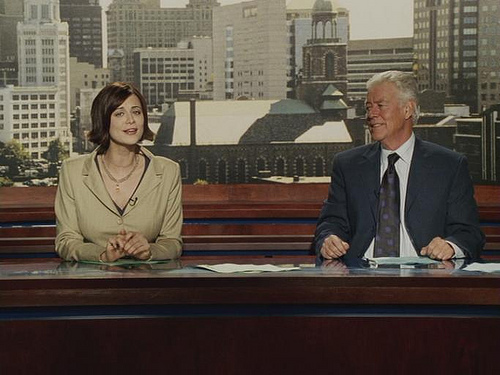 As corporate conglomeration becomes more widespread, what stations are used in movies is becoming affected. For example, most Fox-produced films feature Fox News Channel as a national network or the local Fox affiliate in the city where the plot is set.
For example, New Orleans' Fox affiliate WVUE-TV shows up in 20th Century Fox's "Runaway Jury," complete with realistic looking live trucks that include matching station logos (these may have been actual vehicles from the station since some scenes were filmed in New Orleans).
Meanwhile, CNN often appears in films produced by Time Warner-owned production companies, and NBC is often found in Universal flicks.
Often real-life station reporters make appearance as well. New York's Sue Simmons, for example, "plays" an anchor in several movies.
There's more to see…
There are plenty other movies out there that feature TV news. Feel free to share sets you've spotted by responding to this post.
"Bee Movie" stills courtesy of Paramount Pictures/DreamWorks Animation; "Anchorman" stills courtesy DreamWorks; "Back to You" still courtesy 20th Century Fox Television; "Mad City" stills courtesy Warner Bros.; "Deep Impact" stills courtesy Paramount Pictures/DreamWorks; "Up Close and Personal" stills courtesy Touchstone Pictures; "Bruce Almighty" stills courtesy Universal Pictures.
Subscribe to NewscastStudio for the latest news, project case studies and product announcements in broadcast technology, creative design and engineering delivered to your inbox.