Why isn't 'Countdown' using cool camera shots anymore?


With the ratings of "Countdown with Keith Olbermann" soaring, we thought now might be a good time to point out something that's been missing on the program: cool camera shots and productive techniques.
Back in the days the show was broadcast from the old MSNBC studios, shows always featured eye-catching camera moves that often would incorporate two or more plasma screens with OTS graphics. Jib shots and fast push-ins were the name of the game.
Ever since "Countdown" relocated to the second floor of the "Today Show" studio to coincide with MSNBC's move to 30 Rock, the show's production values have gone stale.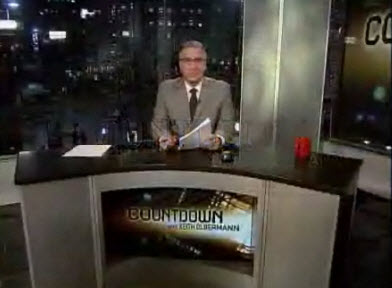 Producers still use push-ins at the beginning of the show, but other than that, all shots are pretty much just tight one-shots on Keith. For a show that has become the unofficial signature broadcast of MSNBC, it sure seems to be getting the short end of the stick as far as studio space and production values go.
It is interesting to note, however, that many of the same production techniques used on "Countdown" have been in use since the premiere of "The Rachel Maddow Show."
Perhaps this is a result of changing style and demographics. When first launched, "Countdown" was a hip, unique look at the news but has since evolved into a more serious politically-focused show that features debate and commentary. This type of programming also appeals to a different age group and audience so perhaps the show's producers felt the quick camera moves were a bit over the top.
That said, why not relocate "Countdown" up to the main MSNBC studio, especially now that Maddow's show has started? Since the two broadcasts are unofficially linked, this would allow Olbermann and Maddow to interact more effectively during the last block of "Countdown." Even if producers don't want to go back to using fancy camera moves, the MSNBC newsroom does offer a more vibrant look and feel.
That said, since debuting, the MSNBC newsroom hasn't really been used to its potential. The large plasma array that mimics a window hasn't be used for much more than to project live shots of Rockefeller Plaza even though it has some intriguing possibilities to be used for OTSs and "walk and talk" presentations. There's also a part of the set that can be raised up and down but, to our knowledge, this hasn't been used yet.
Another possibility for "Countdown" could be to use the virtual set technology MSNBC has been using for election coverage. This offers some intriguing possibilities when you consider how the Countdown graphics package could be integrated into the set, placing Olbermann against the high-tech look of wires, pipes and screens.
Monday evening saw an interesting background possibility with Keith anchoring from Philadelphia: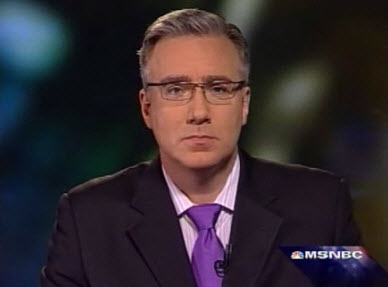 We can't be sure, but it does appear this background may be based on the "Countdown" graphics package. Even this background added more visual depth and interest than the flags and lights of Rockefeller Plaza. It seems the background was being projected behind Keith on some kind of monitor, as there were some rather obvious reflections of Keith's laptop and scripts.