Fox cubed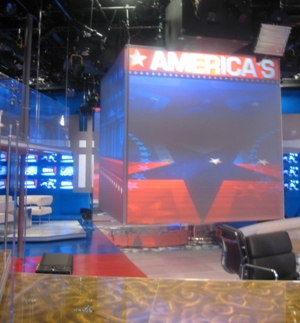 TVNewser has some additional photos of the Fox News Channel election set that show an interesting cube element in the middle of the studio, though it seems to be in a different area than the photos posted before.
Based on these photos, the surfaces of the cube appear to have graphics projected on them from inside the cube (rather than front projection), which is an interesting concept.
The shape and position of the cube make it possible for it to be used in a variety of ways and different angles throughout the night. If the cube is indeed equipped with projection systems, it could also serve as a key way to display results.
We wonder if the cube can rotate since it appears to be suspended from the ceiling. If so, one possible use would be to display one state's data on one face of the cube and then rotate it, on air, to reveal another state.
It will be interesting to see how this element will be used on election night and, if it sticks around for day-to-day coverage, how it might be integrated into other shows.