BBC creates a unique feel while providing a different view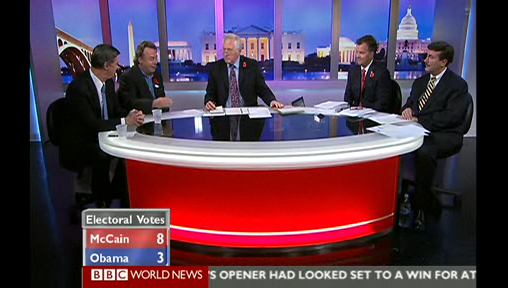 Originating from BBC's studios in Washington D.C., BBC is providing coverage of 2008 Presidential Election on 4 different networks around the globe.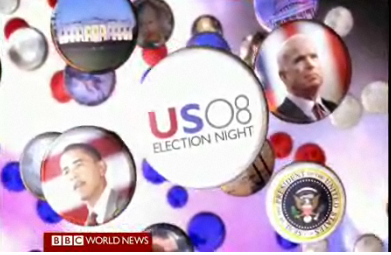 BBC's coverage is quite different from American networks, but is quite the same. BBC has a host of staff in various positions including embedded with the campaigns and in Times Square.
BBC, like many of the American broadcasters, also has a host of virtual 3D toys.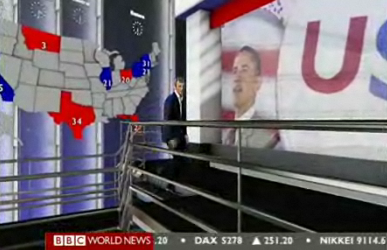 Using a multiple story setup, BBC's 3D environment has a fake screen and a floating map (much like that of NBC's).
Overseas channels have used 3D environments for their elections for many years. It was smart of the BBC to use their existing infrastructure to present a new view on the election. The 3D environment allows maps to pop and charts to come to life as presents touch various parts of them.
The BBC has also somehow put a touchscreen into their virtual set, with full multitouch technology (like that of CNN, FOX News, ABC, etc.).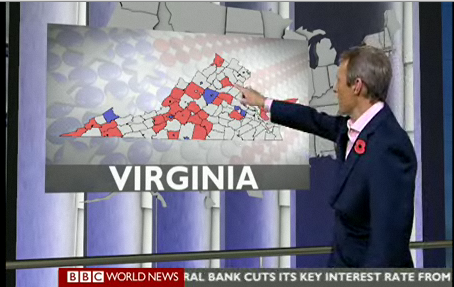 This technology allows the BBC to present news in a different way and allows them to better break down the data.
Overall, BBC has completely reformatted their graphics from the primaries. For the primaries, BBC featured bright reds and whites. Tonight, mute colors adorn their graphics with a much simpler look.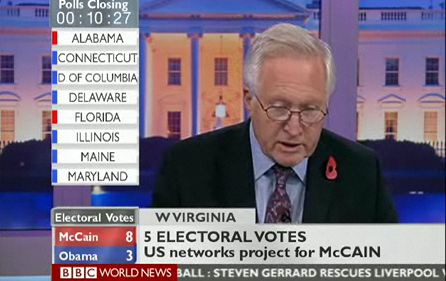 Overall, the BBC is presenting a unique view of the news while still giving something unique to American watchers, a different perspective.