MLB Network prepares for opening day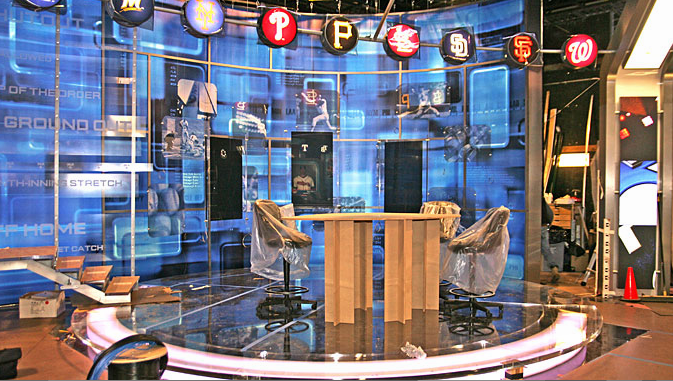 MLB Network is preparing to launch January 1 from their new home in Secaucus, N.J. and Broadcasting & Cable has the inside pitch. Continue reading to see more pictures of the old MSNBC home and the new home of MLB Network.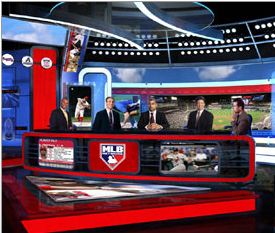 "The finishing touches are being put on the high-definition production and technical headquarters in Secaucus, N.J. Its centerpiece is the whopping 9,600-square-foot Studio 42, which is designed as a half-scale replica of a baseball field. There's synthetic turf on the infield, and a 25-foot out-of-town scoreboard that will display real-time updates; it's modeled after the scoreboard in Philadelphia's Citizens Bank Park.
Studio 42 (so named to honor Jackie Robinson; neighboring Studio 3 tributes Babe Ruth) will be used as a demonstration center by MLB Network analysts (and former MLB players) Al Leiter, Joe Magrane and Harold Reynolds, and is one of many indications of the network's attempt to swing for the fences.
The 140,000-square-foot network facility, which once housed NBC Universal's cable news network MSNBC, includes 38 nonlinear editing suites and is the early foundation of a file-based digital archive that MLB is creating from the league's vast trove of film and tape archives."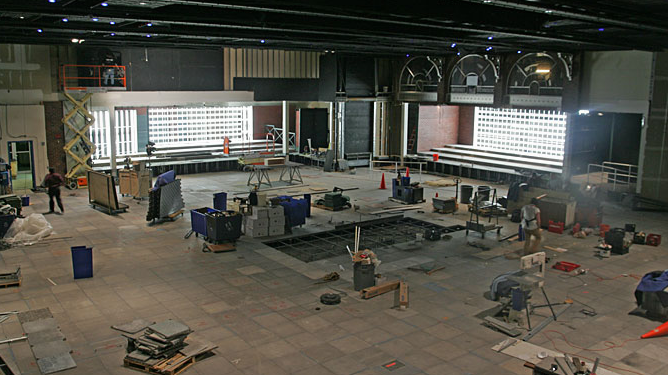 You can clearly see the old MSNBC portion of Studio 42 from the glass windows in the upper right.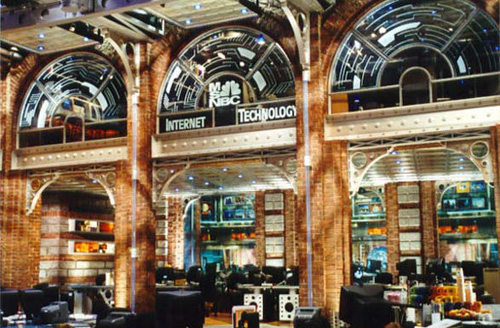 Along with the transition MLB Network gutted the former main MSNBC newsroom to create a massive new studio, Studio 42. The new studio features a real turf infield and seats for "fans."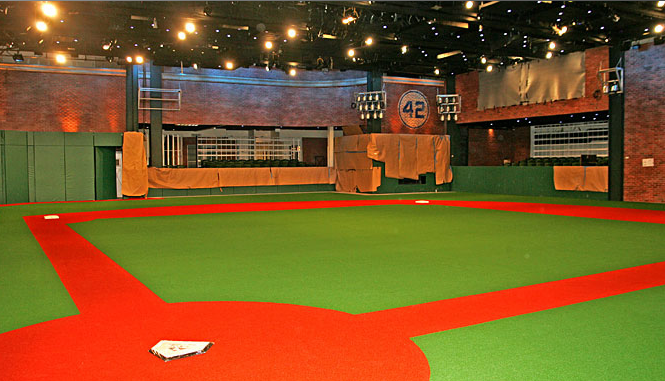 "The 5,600-square-foot Studio 3, the primary home for MLB Tonight, features 62 video displays. They include a 30-by-7-foot rear projection screen, a 108-inch LCD monitor from Sharp (a major MLB sponsor) and a Perceptive Pixel touch-screen display, such as those used by CNN and Fox News Channel, that will allow talent to interact with and change graphics and images on-screen.
Studio 3 has a rotating desk and six distinct broadcast areas, including a balcony, stat center and interview area. The ceiling is ringed by backlit logos of all 30 MLB teams, and the lighting can be altered to give it the feel of day or night.
Studio 42's half-scale infield measures 45 feet from base to base, with a pitcher's mound 30 feet from home plate. It also has a replica outfield wall, complete with padding, brick designs and three different seating areas that can hold up to 173 people."
MLB Network launches January 1 on many major providers, so stay tuned!