CNNI studio loses sleek look in refresh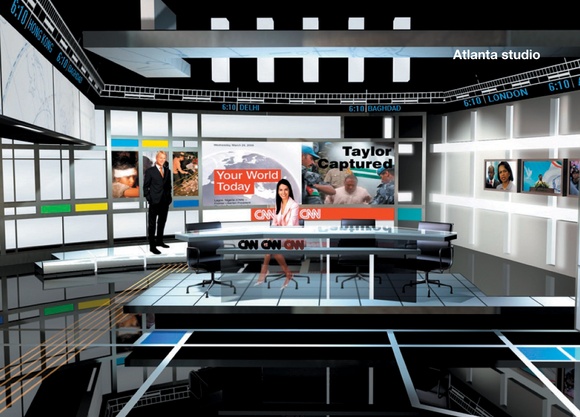 One thing that's pretty clear about the new CNNI set is that this was more of a refresh than a whole new set. Comparing images of the "before" and "after" shows the set has retained many of the original structural elements. The bulk of the changes seem based on replacing the white and color backlit panels with printed graphics that match the network's new blue look.
Take a look at the main back wall, for example. The rear projection screen remains in the same off-center location and the three vertical plasmas to the left also remain, albeit slightly reconfigured.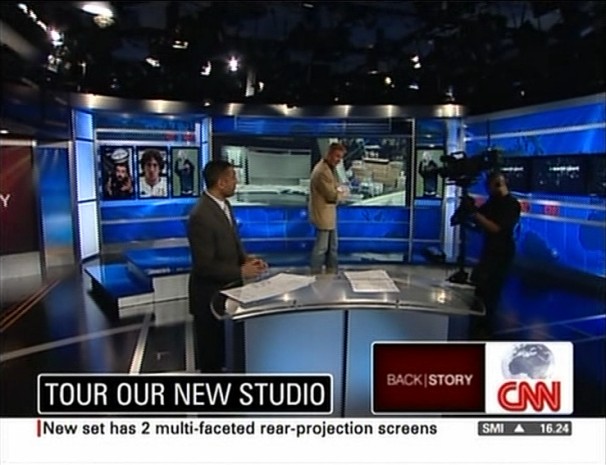 One area that did change rather significantly is that camera left area. On the original set, this was simple an extension of the same white and colored wall; it now sports printed graphics and a rear projection screen rather awkwardly crammed into the space under the structural overhang in the studio.
The new setup also includes new anchor desks and risers, but it's interesting to note the floor markings remain.
While the new look is certainly professional, it doesn't quite pack the punch of the old look. The previous set's bold whites and colors created a clean, polished look that was very cohesive.
The new look's graphics are a bit too busy, especially when you consider the rear projection screen as part of the back wall. It's also a bit odd how the muddy orange hues start appearing in the header above the room's overhang and the camera left rear projection area. There's also several places where unsightly wrinkles show up in the graphics and the choice of placing a bright light above the left-hand-side rear projection is a bit odd since it creates a distracting hot spot and washes out the screen's images.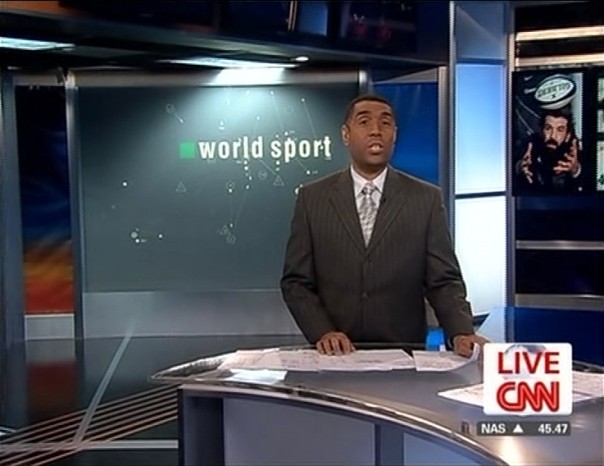 It is a bit sad to see CNN lose its ultra clear, "European" look that it once sported. That design, by Clickspring, was replicated across the network's international studios, was sleek, modern and unique compared to the new studio's more traditional feel.
One question still remains about this new look: Who designed the new look?
Images courtesy of CNN Observations.