Winner of 'Best Set of 2009' announced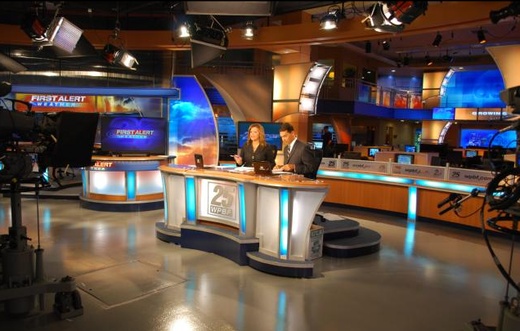 WPBF-TV, the ABC affiliate serving West Palm Beach, Fla., has won the first NewscastStudio "set of the year" contest by a large margin.
The announcement was made earlier this morning exclusively to subscribers of NewscastInspiration Newsletter.
"We decided to give our newsletter readers an early look at the winner," said Michael P. Hill, founder and publisher of NewscastStudio. Readers interested in receiving the newsletter should sign up here.
The winning set, designed by FX Group, is a revamped working newsroom studio that was a breakthrough look for both the station and design firm.
The set's impressive arches provide a nice visual separation from the newsroom and stuido area as well as a frame for the back wall's balcony. Backlit elements and floating transparent panels add an additional visual element.
Click here to see a full gallery of photos from the set.
The final vote for WPBF-TV was 125 out of the 191 votes cast.
Coming up second was the Clickspring-designed Fox Business Studio G set in New York City. The network's bold, eye-catching set that, while may be a bit over the top for some, certainly deserves a place on this list for its willingness to take risks.
Click here to browse a collection of photos from this studio.
Fox Business scored 37 votes.
Finally, the third place finalist was KTLA-TV in Los Angeles. Broadcast Design International's design incorporates an interesting combination of straight lines, angles and curved elements to create a look that's contemporary and fresh.
Click here to check out more photos.
When voting closed, KTLA-TV had claimed 29 nods.
In the interest of full disclosure, however, we should note that WPBF-TV posted a link to our poll on its Web site and encouraged viewers to vote for the set.
NewscastStudio suggested this to other finalists as well.
That said, congratulations are still due to FX and WPBF-TV for their win. The set is certainly worthy of the title and we're excited to be able to announce the station and designer as the winner.
NewscastStudio plans to continue the "best set of the year" contest in future years and hopefully 2010 will see even more great designs as finalists.
Sign up for our NewscastInspiration newsletter and be the first to know about stories like this.