Colorado Springs station refreshes set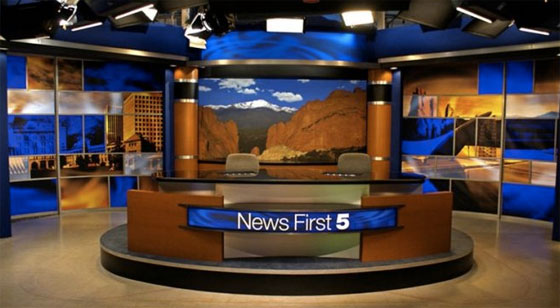 KOAA-TV, the NBC affiliate in Colorado Springs, Colo., has debuted a refreshed set from FX Group. See the before image and read more after the jump.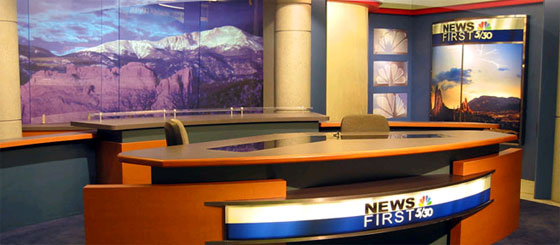 The original set, shown above, was designed by Sightlines Designs, which, incidentally, is the company behind the original "Unwrapped" diner seen on Food Network.
The new look keeps much of the set's existing structure with some surfaces refinished in a wood tone instead of the grayish-white.
In addition, the left and right side of the set now features graphical panels mounted in a metal frame. The center duratran has also been changed out.
While the new look does add a splash of color to the set, the side panels seem like they might be a bit distracting on air, especially if they are used in conjunction with an OTS graphic. In addition, the center duratran's image of mountains seems a bit overpowering and out of proportion. The place of the gap in the mountains is interesting as well, since it seems like it would be covered by an anchor's body most of the time, making it seem like the anchors are sitting in front of a vast expanse of rock.
Perhaps the biggest improvement, however, is the lighting. Not only did FX add a textural lighting element about the camera center background, but the entire set has a much richer feel than the relatively flat look it had before.