NAB 2010: Full steam ahead with 3D
Subscribe to NewscastStudio's newsletter for the latest in broadcast design and engineering delivered to your inbox.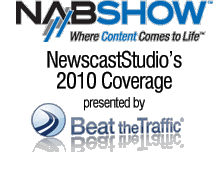 Much of the buzz surrounding this year's NAB Show revolves around one specific technology, 3D.
Films featuring 3D elements are nothing new, they've actually been around in some form for over 100 years, but now movie studios and television networks are betting big on 3D in the home.
ESPN 3D will lead the 3D wave coming this summer and will launch in June, with many of the details being announced at NAB.
"ESPN's commitment to 3-D is a win for fans and our business partners," Bodenheimer said in a statement about the launch. "ESPN 3D marries great content with new technology to enhance the fan's viewing experience and puts ESPN at the forefront of the next big advance for TV viewing."
Along with content, many suppliers are also creating platforms to bring this content into households using new streaming technologies and pricey television sets.
Vizrt has also been on the forefront of the 3D movement with many new applications to create 3D graphics.
"Live Stereo-3D productions have different needs than film, where you can change the stereo-3D parameter in post production," said Johann Rückel in a Vizrt press release. "In a live production you need real-time tools like the Viz Engine, where you can change every parameter and see the changes right away."
With content and systems now in place, one question still remains, will local viewers buy into it? Like other recent technologies, 3D requires more investment and money… something people aren't spending like they use to.
Also, how long until local stations adopt it like HD and make it "the next big thing?"