NAB 2010: Wrap up
Subscribe to NewscastStudio for the latest news, project case studies and product announcements in broadcast technology, creative design and engineering delivered to your inbox.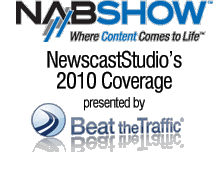 The 2010 NAB Show is now over and NewscastStudio had complete coverage.
From advances in weather coverage to new touch technology updates, the 2010 NAB Show rebounded on total attendance from last year and showed off some new technology which is sure to pop up on TV stations soon.
Special thanks to Beat the Traffic for its support of our 2010 NAB Show coverage.
Here's a recap of all the stories for quick reference:
Beat The Traffic is introducing its exclusive Touch Technology to drive its award-winning on-air television traffic reporting software system. This leading new touch screen technology is clearly the latest break through for on air traffic reporting which makes their system more uniquely intuitive and interactive with the simple touch of a finger.
Much of the buzz surrounding this year's NAB Show revolves around one specific technology, 3D. Films featuring 3D elements are nothing new, they've actually been around in some form for over 100 years, but now movie studios and television networks are betting big on 3D in the home.
Started as an Internet venture in the San Francisco Bay Area in 2001, Andre Gueziec combined his doctorate in computer science and a career working for IBM with his fascination with automobile traffic, traffic related data and graphic animation. His creation was the SF Bay Traffic Info Web site: www.sfbaytraffic.info.
As touch screen technology becomes more affordable, many local stations and national networks are increasing implementation of devices like Perceptive Pixel's Multi-Touch Wall. Now more than ever, talent can interact in new ways with data, stories and information. Sometimes this technology can be a little corny, but sometimes it can be a great addition to the story.
When "The Colbert Report" debuted in HD January 4, one technology helped take the set's displays to a whole new level, Christie MicroTiles. MicroTiles are a relatively new product that can be arranged in any configuration to create unique video displays in various shapes and sizes. The redesigned "Colbert" studio features 41 MicroTiles arranged in three horizontal displays and four angled vertical columns.
AccuWeather has announced expanded data and integrated forecast tools for its CinemaLive HD graphics system, including a comprehensive set of tropical data. "Tropical storms and hurricanes are both a forecasting challenge for the locations affected and a nationwide news opportunity. We've architected the new data set to address both requirements," stated Ryan Ayres, executive director of TV products and operations, in a statement.
WSI has announced a collaboration with Perceptive Pixel, the creator of advanced multi-touch display systems. WSI's weather information, now integrated with Perceptive Pixel's multi-touch displays, will enable broadcast meteorologists to use sophisticated and intuitive multi-touch gestures to control graphic presentations that further enhance realism, allowing them to take the story from national to neighborhood level instantly.
The National Association of Broadcasters today released its attendance figures for the 2010 NAB Show, the world's largest electronic media event covering filmed entertainment and the development, management and delivery of content across all mediums.
Its name may not be as well known as Chyron, but a little company called Orad Hi-Tec Systems is gaining traction in the North American market. Founded in 1993, Orad is largely a European company that has continued to expand and grow to meet many broadcast graphic needs. Its mission is to "realize the potential of proven and emerging electro-optical, video and real-time image processing technologies for TV broadcasting, virtual reality and sports events, enabling Orad to provide a one stop technology shop for all its customers."
Chyron has unveiled Quintette, its latest system in a line of newsroom graphics, management and distribution solutions at the NAB Show in Las Vegas. Quintette features a sophisticated graphics workflow production with "plug and play-out" functionality. The system also includes integrated electronic ordering and graphics asset management and collaborative cloud tools, as well as business intelligence and reporting.
Chyron's AXIS graphics system has rolled out a host of new features for 2010 at NAB. Continue reading to learn about the new features and updates. Update: Video added.
Virtual set technology is popular in Asia and Europe but U.S. TV productions have been reticent to rely on it due to cost and complexity. The deal with NeuroTV could change that equation has it has a trackless technology, meaning that the camera can be locked down and computers then synthesize moves like camera crane moves and pans.
AccuWeather, the weather display and content generation provider, will debut its new interactive touchscreen technology at NAB. The technology, available as an upgrade to CinemaLive HD or as a stand-alone system, lets talent quickly zoom and switch between various elements to report breaking news and severe weather. This allows the talent to "compose and present the story as it unfolds in real time."
Perhaps the most amazing thing for those bracing for the possibility of a 3D future is the discovery that, technically speaking, it's much closer than many may think. The transition to HD has taken care of much of what's needed for 3D.
Subscribe to NewscastStudio for the latest news, project case studies and product announcements in broadcast technology, creative design and engineering delivered to your inbox.