CNBC unveils iPad app with real-time data streams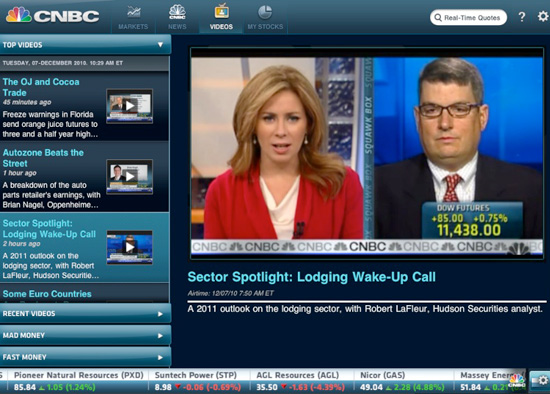 CNBC is now offering an iPad app that integrates real-time stock data, customizable tickers and video content.
The app appeared late Monday night in the App Store, according to technology news site Mashable.
The app, which is free, includes video highlights from CNBC programming and quick access to breaking news as well as the ability to track specific companies. In addition, the app bests the apps from Fox Business and Bloomberg by offering real-time data, compared to the 15-minute old information available from the latter two.
Graphically, the app mimics the channel's on-air look, including the iconic white and blue ticker and clean, slightly polished-looking graphic bars.
Mashable does point out two flaws in the app, however, the lack of live streaming from the CNBC cable channels and social media integration.
For more information or to download the app, click here.