Beat the Traffic to show off new features at NAB Show
Subscribe to NewscastStudio's newsletter for the latest in broadcast design and engineering delivered to your inbox.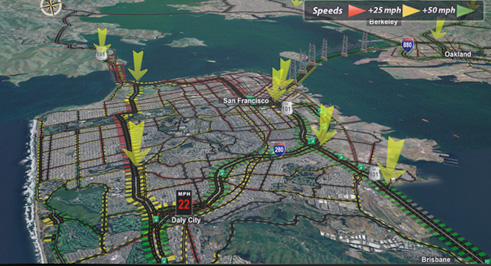 Beat the Traffic will unveil several recent innovations to the Beat the Traffic 3D product at NAB 2011 in Las Vegas, April 11-14.
Beat the Traffic Version 6.2 also enables integration of a live, broadcast quality SDI video feed, from a traffic camera or alternate video source, rendered in full screen mode or as an inset on the 3D map. SDI video integration enables a new level of interaction between real life pictures and traffic data, delivering complete, lively, and engaging traffic reports.
"By adding live traffic information on surface streets, interactive video integration, and the ability to pinpoint the real-time traffic speed at any point on the roadway, Beat the Traffic's broadcast product truly delivers a new level of distinction in traffic reporting," says Andre Gueziec, President and CEO of Triangle Software, the company that operates Beat the Traffic. "This is another great win for our media partners, as these innovations make televised traffic reporting more relevant and actionable for viewers."
Visualizing live traffic conditions on surface streets such as Las Vegas Blvd in Las Vegas, or El Camino Real in Silicon Valley, has been a long-standing challenge for traditional traffic broadcast products. Beat the Traffic's new data modeling and engineering allow the Beat the Traffic 3D broadcast system to ingest orders of magnitude more data while continuing to provide a clean, elegant, and highly responsive display.
About SpeedTips
Imagine a television traffic reporter being able to move a pointer on any portion of roadway and instantly reveal the live speed of traffic at that location. This is the newest capability afforded by SpeedTips technology, introduced for the first time at NAB 2011. SpeedTips has the potential to make televised traffic reporting more interactive and actionable for viewers.
You can visit Beat the Traffic at NAB Booth #SU2302.