MSNBC to run 'Lean Forward' ads in movie theaters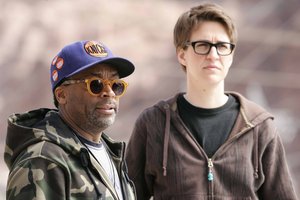 MSNBC's "Lean Forward" ad campaign could be headed to a movie screen near you.
The network has announced that it will begin running the Spike Lee-produced advertisements at movie theaters, reports the Kansas City Star.
The campaign features MSNBC hosts in the style of unscripted interviews combined with other footage.
The campaign was recently mocked by Saturday Night Live "Weekend Update" anchor Seth Meyers at the White House Correspondents Association dinner.
"'Lean Forward' — as if the problem has been that we couldn't hear them," Meyers said. "Have you seen 'Hardball'? Chris Matthews yells like an auctioneer in a wind tunnel. I've never watched 'Hardball' and thought, 'I need to get a little closer to this.'"