Clickspring creates 360 degree environment for CNN primary debates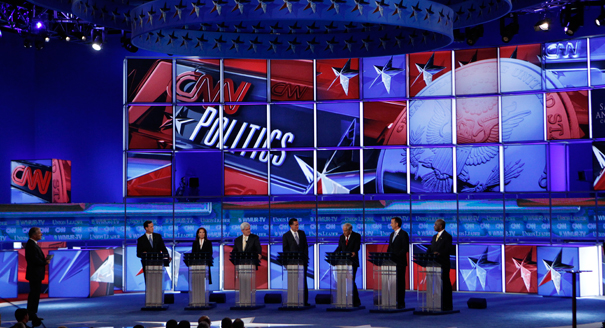 Continuing its relationship with CNN, Clickspring Design once again helped CNN kick off the election debate season.
Used June 13 in New Hampshire, Clickspring converted the St. Anselm hockey arena into a debate hall complete with a 360 degree environment that would unify the space and focus attention on the politics at hand.
Behind the candidates, an  85′ modular wall similar to the 2008 debates was used with a slight upgrade, this time it featured a high resolution LED ribbon. Two 27' x 15' rear-projection screens flanking the stage which CNN used for live feeds from remote audiences and posting of questions to the candidates from online viewers, as well as close-ups for the live audience.
CNN will use the set again in Tampa and Las Vegas  later in the year.