Missouri station puts Google+ to work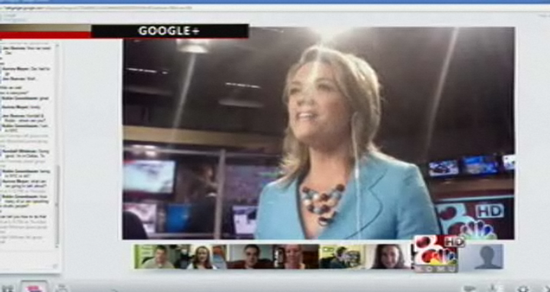 KOMU-TV, the NBC affiliate owned by the University of Missouri and operated by the Missouri School of Journalism, has been experimenting with using Google+ and Google+ Hangouts to add an additional live, interactive channel to its newscasts.
The station, which serves a large portion of Mid-Missouri, has also been offering a live, behind-the-scenes simulcast via Livestream for several weeks now. Anchors interact with with viewers during commercial breaks and even during soundbites and packages.
The Livestream video and Google+ are all part of an overall interactive strategy the station is taking.
The station is planning to launch a new, interactive newscast this fall, called U_News@4 with #SarahHill (yep, that "@" symbol and hashtag is part of the official name).
KOMU's anchors now have two phones, two netbooks and two iPads on set with them and frequently use them to interact with features such as "Facebook questions of the day" and other features, such as showing user-submitted content as it comes in, something that came in particularly helpful during recent tornado coverage.
This plethora of technology has lead to some changes in how producers and anchors work together, notes anchor Sarah Smith in an interview with PBS's MediaShift: "Producers are learning they have to talk in our earpieces like bingo callers and repeat instructions loudly and slowly," she explains. "'Drop, B-17. Drop. B 17.'"
Despite this interesting experiment, KOMU does note one of the biggest shortfalls of Google+ Hangouts — its limit of 10 participants at a time, which could quickly limit the practicality of using it as part of a newscast.
For more about the Google+ stream, visit the station's story on the experiment here. You can also visit the station's Google+ page here and anchor Sarah Hill's here.