'Today' heads outdoors for show opener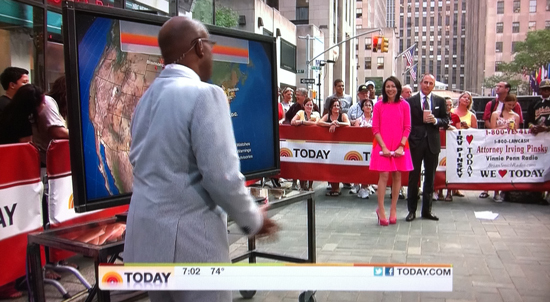 NBC's "Today Show" took to the streets this morning to cover the heat wave that's enveloping much of the country.
Hosts Ann Curry and Matt Lauer opened the show from outside Studio 1A where it was already in the mid-70s at 7 a.m. Eastern Time.
Producers also rolled out a large flat screen monitor (that's also used for indoor segments) on to the plaza, making it possible for Al Roker to deliver a forecast overview from outdoors and for the show to take an interaction shot between Curry, Lauer and Roker, as shown above.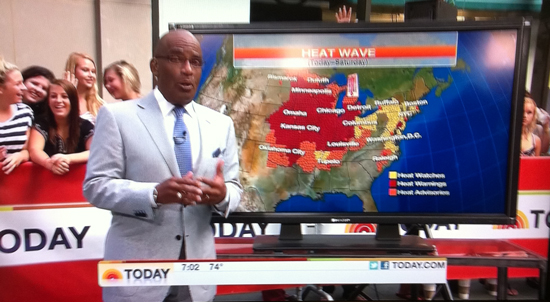 The use of the monitor worked fairly well, though there was some glare on the screen, as shown above. Roker was also kept on screen rather than taking the weather maps full screen, which also made it a bit difficult to see much detail on the maps, though viewers still likely could comprehend the basic points.
On a side note, as with any outdoor segment "Today" uses, there were of course plenty of spectators surrounding the anchor, including someone who managed to wave his or her hand just above the top of the monitor, as you can see in the image above.