Publicity photo reveals sneak-peak at 'Rock Center' set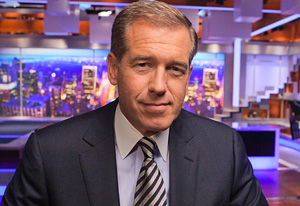 A recently-released publicity photo featuring NBC anchor Brian Williams in front of what appears to be the newly-constructed set for his upcoming "Rock Center" primetime newsmagazine.
The set's overall design appears to be in line with the visual direction other NBC News programs' sets have taken, though it does add a bit more wood tones than are typically seen.
A broad cityscape background is visible, as is what appears to be a small staircase to the right. The ceiling appears to include lighted box-like units, similar to those seen in the MSNBC/NBC newsroom.