Michigan station MI News 26 debuts new set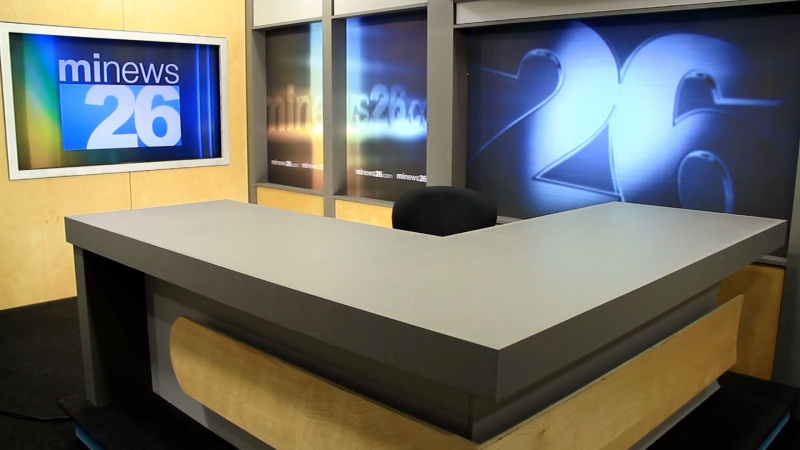 MI News 26, an over-the-air startup station in Cadillac, Mich., debuted a new set in May.
The set, designed by Fifteenhundred, includes a small weather center, anchor desk and standup area (Fifteenhundred is owned by the parent company of NewscastStudio).
The set's main wall includes backlit printed graphics that serve as the focal point of the main anchor position. Although the set is primarily used for a single anchor, the desk can accommodate dual anchors as well as guests.
Despite occupying a rather small footprint, the set was designed with over 15 camera angles and over 10 talent locations, giving the MI News 26 crew optimal flexibility for producing a wide variety of programming.
A large DLP monitor serves triple duty as an anchor OTS element and animated background, standup location and video wall for weather forecasts. A mobile flat screen has pre-designed positions in the weather center, standup area and at the anchor desk.
The anchor desk and weather pod are both mobile and can be used in several combinations. The design also allows for multiple talent interaction shots, including weather and standup debriefing positions at the anchor desk.
A full photo gallery and video montage of the MI News 26 set is available here.
The set was built using a very tight budget and Fifteenhundred was able to work with the local builder to ensure a polished, professional look while maintaining optimum value for the client.
"Our set is a great example of how a bit of creative thinking can really stretch a budget," said Eric Wotila, general manager of MI News 26.
In addition to being used for daily MI News 26 production, the set will also make an appearance in an upcoming music video of a deaf musician from Detroit named Sean Forbes. The video, "We Interrupt this Program," was shot at the Cadillac station in August.
"Sean was looking to find a television station to do this at so I thought this would be perfect. I came over and saw the set — the set was beautiful," said Scott Forbes, the father of the star of the video.
Click here to see a behind-the-scenes video clip of the music video shoot.
In addition to the set, MI News 26 uses an in-house produced, fully HD graphics package and music from Stephen Arnold Music.
MI News 26 was in the running to receive a free set makeover from scenic design firm FX Group as part of the "Ultimate Newscast Makeover" contest earlier this year, but lost out to Western Kentucky University, which debuted its FX set recently.