Jack Morton creates 'Education Nation' environments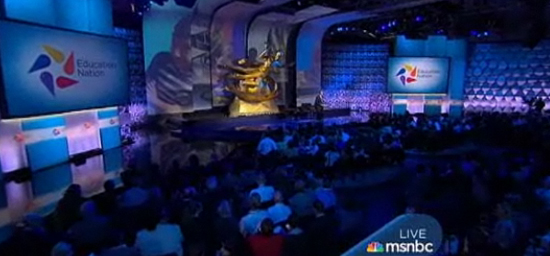 Jack Morton Worldwide teamed up with NBC News create "Education Nation"— a national summit that gathered hundreds of the nation's top leaders in education, media, government and business at Rockefeller Plaza in New York City for a discussion about the state of our nation's education system.
The project included turning various parks of Rockefeller Plaza, including the famous ice skating rink, into a massive environment dubbed the "Education Nation Learning Plaza."
The main portion of the project, which included a stage and audience area for the two-hour town hall aired Sunday, was situated over the ice skating rink in front of the famous status of Greek legend Prometheus bringing fire to mankind. The status is particularly relevant to the subject since the wall behind the sculpture features a quote from Aeschylus reading: "Prometheus, teacher in every art, brought the fire that hath proved to mortals a means to mighty ends."
Flanking the statue area curved video ribbons as well as additional projection screens. The entire area is wrapped in a dramatically lit, textured wall.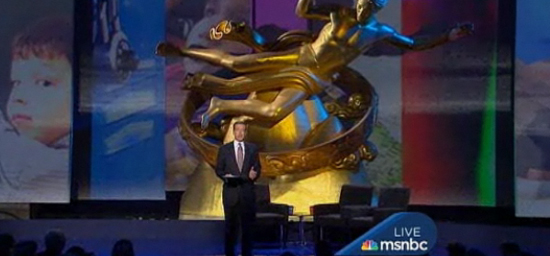 "Jack Morton is honored to have designed the experience that will bring people together for this important national conversation on education – a topic that is so vital to our country, our economy and our future," said Josh McCall, Chairman and CEO of Jack Morton Worldwide. "We look forward to the success of NBC Education Nation and the results of the summit."
The Education Nation Facebook wall includes some behind-the-scenes construction photos.
This isn't the first time NBC has taken over the plaza for a special event. Previously the plaza, including the ice skating rink, has been used for election coverage ("Democracy Plaza" was the moniker used that time) and an area promoting Habitat for Humanity after the Gulf Coast disaster caused by Hurricane Katrina.
Video of the "Education Nation" town hall:
The latest in design, production and engineering
Subscribe to NewscastStudio for the latest delivered straight to your inbox.