NTV and CNBCe debuts next generation news environment in Turkey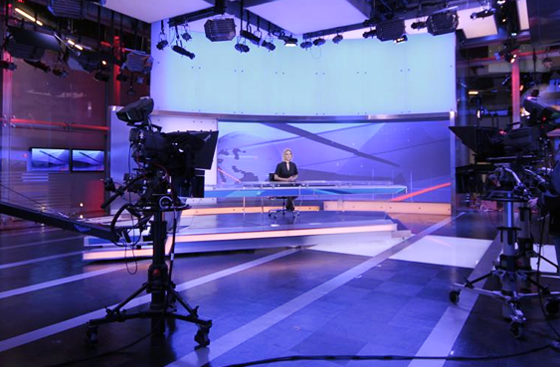 NTV and CNBCe, the leading news channels in Turkey, launched a new Clickspring studio Monday that's being referred to as the "next generation" of  broadcast design.
The studio was part of a new building Do?u? Media Group, that took 450 tons of steel, 1000 square meters of glass, 250,000 meters of cable and 160 square meters of screens to complete. As part of the design, NTV and CNBCe went with LED lights to save energy over a traditional news studio.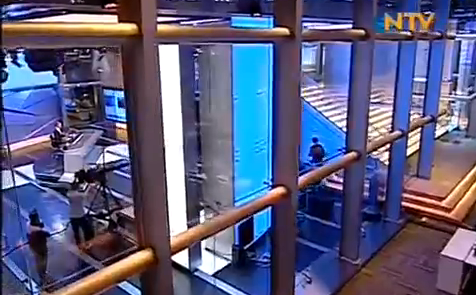 The studio is built within a large glass and metal cube with the newsroom and control room on the sides. The studio space is nearly three stories tall with design elements throughout. Bridging the divide between sets is a large backlit staircase.
The cube is not just a design element, but also serves to bring transparency into the newsroom.
"Traditionally, production of broadcast news has been confined to "black box" studios, and although this arrangement serves the more pragmatic aspects of broadcast production ( i.e. complete lighting, visual and acoustic control) there is a separation between the broadcast and  the world upon which it is reporting," wrote Clickspring Design. "Dogus Media and Clickspring Design have brought this longstanding tradition into question by choosing to redefine the broadcast environment in ways that allow an interaction between a broadcast and its contextual surroundings."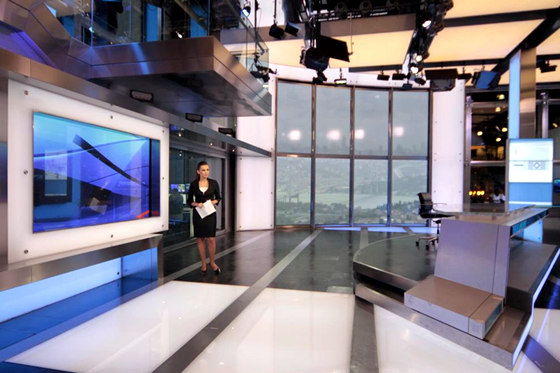 "The studios are encased in a glass envelope which is bisected by a public stair;  the studios within the envelope and the public circulation along the grand stair and the perimeter of the envelope  begin to weave together in ways that demystifies and democratizes the broadcast production process. The high degree of transparency allows visitors access to view and understand the news from a unique perspective, since the previously hidden mechanics of editorial and production are in plain sight. Visitors and employees have the opportunity to  become a part of the production by appearing on camera through the transparent envelope."
The new studio features multiple areas, including a balcony, with many technology elements.
Near a standup area, large monitors act as a window that also serve as a background for an anchor desk.
The studio is shot using multiple cameras including two jibs, which make for sweeping views of the studio.
Overall, the set is continuing to move broadcast design in a new direction using green technology with large expansive environments that can be shot multiple ways for multiple programs. The end result of the project is a state-of-the-art studio that serves multiple stations and creates a defined look that is not only nice looking, but also highly functional.
The latest in design, production and engineering
Subscribe to NewscastStudio for the latest delivered straight to your inbox.