Bloomberg offers 24/7 stream to iPad users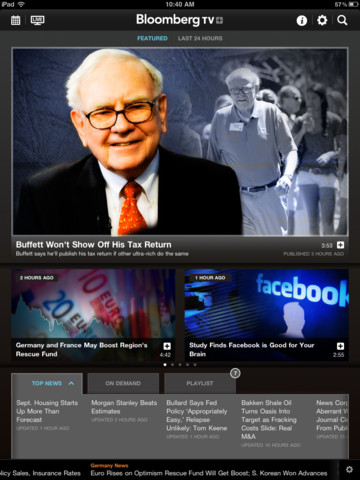 Via Lost Remote, Bloomberg TV has unveiled a new iPad app that allows users to view a live stream of its cable channel 24 hours a day, 7 days a week.
In addition to the live feed, the app also includes on-demand content from the network.
Unlike CNN's recent efforts to stream its signal, the Bloomberg app is not restricted to existing cable or satellite subscribers. This fact is certainly interesting but could be an effort to boost viewership since Bloomberg TV's availability isn't quite as far reaching as CNBC's, for example (though it still commands a significant lead in carriage compared to Fox Business Network).
All of the video on the app is HD quality.
Head over to Lost Remote to read a brief interview with the Bloomberg TV exec responsible for the app.