Canada's BNN sporting new look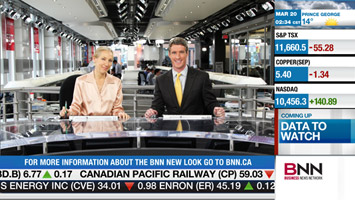 The Canadian channel Business News Network is rolling out a new on-air look today, reports News On News.
The changes are focused on making on-screen information easier to read, and include a new, larger font, better contrasting background color and a larger ticker. The network is also returning its "data tower" to the right hand side of the screen.
"We're always looking for ways to improve BNN and deliver the best service possible to our audience," Jack Fleischmann, general manager of BNN, told News On News. "We're constantly in touch with our viewers and looking for ways to better serve them. These changes are designed to make the channel even better and more user friendly."