Fox News to utilize Google+ Hangout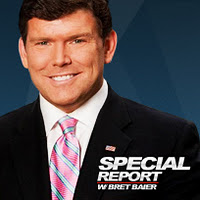 The host of Fox News Channel's "Special Report," Bret Baier, will host a series of Google+ Hangouts with GOP presidential candidates, the show announced via, where else, its Google+ page.
Hangouts are a Google+ feature that allows multiple people from around the world to participate in an interactive video chat.
Fox News will first use the feature Nov. 15, kicking off a series of Hangouts that will feature additional GOP candidates as the weeks go on.
NBC affiliate KOMU-TV in Columbia, Mo., regularly uses Google+ to interact with a limited number of viewers and WXYZ-TV in Detroit has also experimented with the service.