ABC News launches new political site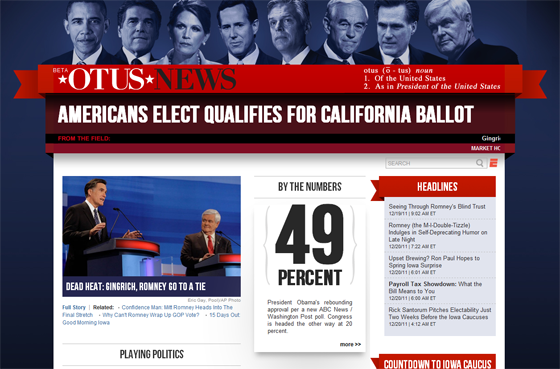 ABC News has launched OTUSNews.com, a new site dedicated to covering political news, including spotlighting the 2012 presidential election.
The site, which is part of the network's partnership with Yahoo! News, uses a modular homepage design that includes "by the numbers" features, social media integration, polls, quotes and links to the site's content.
One feature of the site, Match-o-Matic, has already managed to go viral, spreading widely via Facebook and Twitter just shortly after launching. Match-o-Matic is an " engaging, playful yet informative interactive challenges users to answer a series of policy questions on subjects ranging from the economy and jobs to security and health care to find their top three political candidate matches in the 2012 field."
The four letters in the site's name, OTUS, are taken from a common abbreviation for "of the United States." The abbreviation is commonly combined with other letters in newsrooms and other contexts such as "SCOTUS" for the "Supreme Court of the United States" (and pronounced "scott-us") and "POTUS" for "President of the United States" (pronounced "poe-tuss").
Other key features of the site include:
Political Stock Market: Breakthrough technology combines the collective analysis of our political experts at ABC News and social sentiment from publicly available Facebook and Twitter comments, search, trending, and influencer data compiled and weighted in collaboration with Bluefin Labs. The market is open 4 a.m.-4 p.m. PT, Monday-Friday, and is always visible at http://otusnews.com.
Game Changers: It's not your traditional Map to 270. Pick the Republican contender you'd like to take on President Obama and game out the path to the victory. Or, go back in time and play a fantasy match-up, pitting any presidential contender since 1960 against another. Obama '08 v. Reagan '84. Nixon '72 v. Kennedy '60. What's your Hall of Fame Game?
Original Digital Video: Politics in a Flash delivers the latest political news from the trail and Washington – Now I Get It explains politics terms and concepts in animated, :90 infographics – Candidates in :60 is a constantly updated, fast-forward review of each candidate's life and career to-date, and Politically Foul reviews the not-top-plays of the week or the moments the campaigns would rather forget.
Daily Features: By The Numbers highlights a symbolic number, why it's critical to the country, and what it might mean for our politics. Thrill of Victory, Agony of Defeat captures the good, bad and ugly moments from the campaign trail. Political Wisdom brings out the best quotes of the current contest and politics past. The Scorecard scrolls the best, constantly updating ABC News politics content, all in addition to unique photojournalism, interactive votes, and ABC News' political all-stars including George Stephanopoulos, Jake Tapper, John Berman, Jonathan Karl, Amy Walter and Rick Klein.