NYT explores Ann Curry's fashion, style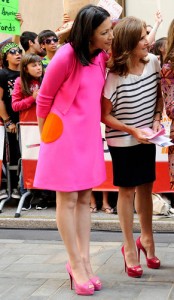 We don't often cover clothing and wardrobe of on air talent, but it is a pretty prominent aspect of the presentation and delivery of TV news.
That said, the New  York Times has an interesting look at the style Ann Curry has brought to the "Today Show."
The article notes Curry has become particularly partial to bright "hot" colors.
"She does not shy away from an eye-popping palette of flamingo pink, caution yellow and stoplight green," reads the article.
Click here to read the full story.