Ohio station uses puppets for trial coverage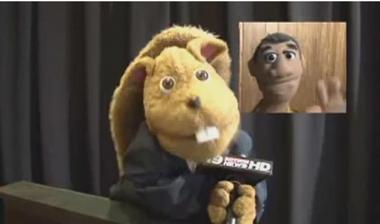 Since cameras are banned from the trial of former Cuyahoga County commissioner Jimmy Dimora in Cleveland, one local station has come up with a way around it.
WOIO-TV, the CBS affiliate serving the area, has started using puppets to re-enact testimony and evidence from that day's proceedings.
News Director Dan Salamone says the productions are an attempt to offer a lighter side to the station's otherwise serious trial coverage.
The segments, dubbed "Puppet Court," air at the end of the station's 11 p.m. newscasts, are also posted to the station's website. Various puppets, including ones outfitted with microphones with Action News flags, play various roles, including the witnesses, jurors and even other reporters.
"It's certainly an important trial, and we've put a lot of resources into it, but there also are aspects of this trial that are circus-like," Salamone told the local newspaper. "Some of the conversations from the wiretaps are almost juvenile."