MSNBC hits 500K Facebook fans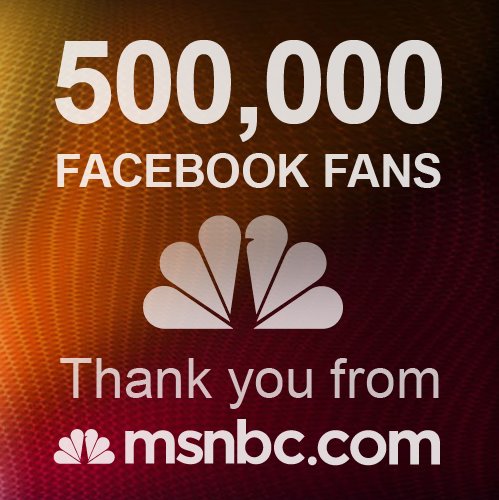 MSNBC's Facebook page has crossed the 500,000 milestone, and the network is celebrating with a special Facebook logo thanking its users.
While the 500,000 number dwarfs CNN's 3.4 million and Fox News Channel's 2.5 million, it is still a significant milestone for the cable network.
It's also worth noting that Facebook's "talking about this" figure for MSNBC is proportionally higher at 31,000, or 6.2 percent, compared to CNN's 61,700 (1.8 percent) and Fox News' 59,000 (2.36 percent). The "talking about this" number is often used by marketers to determine engagement level of fans.
MSNBC, meanwhile, has updated its Facebook icon, replacing the simple network logo with the brown and orange toned image shown above.