FX Design Group to showcase augmented reality sets at NAB
FX Design Group and DeSisti Lighting have partnered together to present an Augmented Reality Set in the DeSisti booth C6037 at the NAB Show. This Augmented Reality Set will feature a high-tech desk backed by a digital (static virtual) background designed by the FX to showcase both FX's designs and DeSisti's lighting gear.
It all began at the end of last year when the FX team was brainstorming ideas on doing something different at the 2012 NAB tradeshow, something which showcased how their photo-realistic set renderings could be used to create cost- effective digital backgrounds. Coincidentally, the DeSisti team reached out to FX to assist them with their booth design – and voila – the two ideas meshed to become one at the DeSisti booth for the NAB Show.
And although FX will have their own booth at NAB (booth C7243), nearby the DeSisti booth in the Acquisition and Production area of the Central Hall – FX designs will also have a presence at one of the premier lighting companies that serves the broadcast industry. DeSisti's booth is located in booth C6037.
FX has always had a history of partnering with their vendors. In past years, FX has provided tradeshow booth elements for Christie Digital – a mini-news set, complete with a high-tech desk and set walls that feature Christie's Microtile products. In fact, this same desk will be featured this year in DeSisti's booth as the center piece for the FX Augmented Reality Set.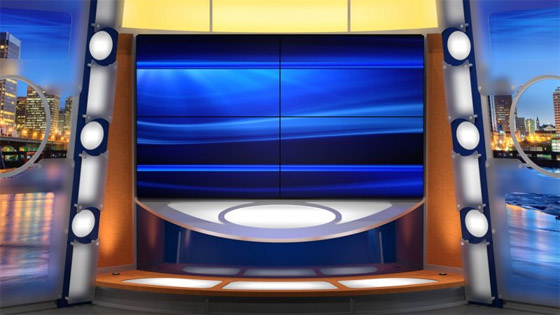 "We define Augmented Reality as digital backgrounds plus real elements, such as furniture or other foreground elements" said Mack McLaughlin, CEO/Creative Director for FX Design Group. FX's design style lends itself well to digital designs as the photo-realistic quality that is the hallmark of FX's designs, creates more real-looking backgrounds than other virtual options available.
Another FX-designed element will be a streamlined, clean-looking motion graphic that will loop in the Microtile facade of the anchor desk in the Augmented Reality Set in the DeSisti booth. It was designed by the Motion Design division of FX – Giant Octopus – which specializes in motion graphics, animation and branding for the broadcast industry.
In addition, this year FX will provide the lighting design for the Christie Digital's expansive booth for this year's NAB Show – booth SL2111 in the South Lower Hall.   Mack McLaughlin, FX's CEO/Creative Director and an Emmy-award winning lighting designer, will create and execute the design utilizing Desisti Lighting's new 40 watt LED Fresnels.
FX Design Group is an advertiser on NewscastStudio.