Salt Lake three anchor format provides shooting challenges, opportunities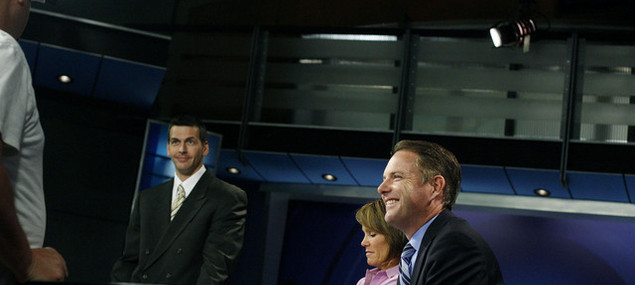 KSL-TV, the NBC affiliate in Salt Lake City has announced it will be switching to a three-anchor format for its evening newscasts, an interesting move that will change the newscasts' shots, presentation and pacing.
Newcomers Dave McCann and Mike Headrick will join Nadine Wimmer as co-co-anchors, filling the single spot left by retiring Bruce Lindsay. The newscasts will also continue to feature a meteorologist and sports anchor.
In local TV news, the two person, male-female format at the anchor desk is, of course, most common. Stations occasionally shake things up with a single anchor or perhaps two females or, more rarely, two males.
Of course, at least part of the strategy behind the three anchor format could be to see which male anchor resonates better with viewers and has better chemistry with Wimmer, should the station end up going back to a traditional two anchor arrangement in the future.
Since the station is replacing a longtime and very popular anchor, this makes adding a new face to the mix even more of a challenge, especially coming off a ratings period that shows overall viewership is slipping.
Station management says it hopes the new format will allow the newscast to be more fast paced and allow anchors to interact more with viewers.
"It's surprising how adding a third person can change the whole dynamic of a show," Tanya Vea, the station's executive vice president of news, said. "This will allow us to better highlight our communities in new, exciting ways."
A three anchor setup also poses challenges to presentation since nearly all local news sets are designed to, optimally, fit two anchors.
Though KSL-TV says its anchors won't be "tied to a desk," shooting the new arrangement will add some additional challenges. Some likely solutions could include standup-style shots for all or some of the anchor team, utilizing the sports or weather chair on the main anchor desk or "mixing and matching" anchor pairings.
It will be interesting to see what shots the station uses and how often all three anchors appear on camera together; a three anchor format also gives the station an opportunity to utilize its set in new ways, including the possibility of interaction shots that tie the anchors and other talent together.