NBC unveils two Olympics apps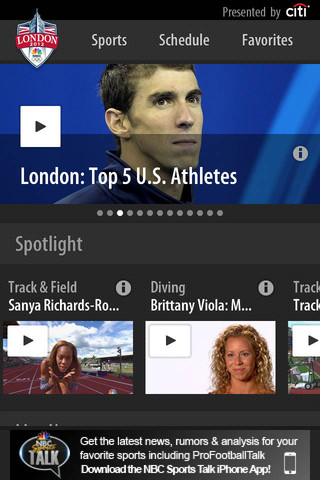 NBC has taken the wraps off two Olympics apps for mobile devices and tablets.
The new apps are available for the iPhone, iPad, iPod Touch and select Android devices.
The "NBC Olympics Live Extra" app is focused on live streaming content, while "NBC Olympics" is a more traditional, news oriented app with updates, schedules, results and broadcast synch feature.
These apps are part of a broader NBC strategy to bring streaming of its Olympics coverage to consumers on multiple platforms.
NBC Olympics Live Extra will, all told, stream over 3,500 hours of live video, including all 32 sports, every athletic competition and all 302 medal events, to cable, satellite and telco subscribers that receive both MSNBC and CNBC as part of their subscription.
Meanwhile, the NBC Olympics app will focus on providing short-form video, news stories and other content. It will also boast "Primetime Companion," a complementary second-screen experience to accompany the traditional primetime telecasts of major events.
To build the apps, NBC teamed with Adobe. Adobe will also continue to support the apps throughout the entire 17-day stretch of games. For more about Adobe's partnership with NBC, read this case study on Adobe's site.
To download the apps, visit the Apple App Store (NBC Olympics or NBC Olympics Live Extra) or Google Play (NBC Olympics or NBC Olympics Live Extra).