Responsive web design helps Scandinavian broadcaster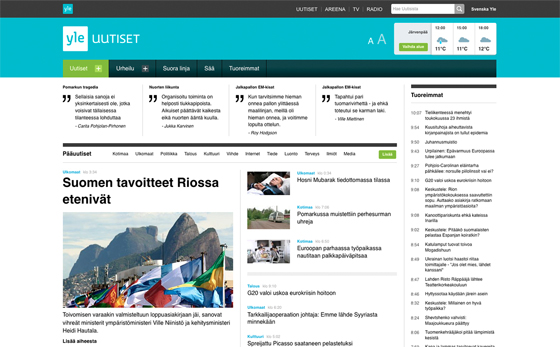 Scandinavian public broadcasters, SVT/Sweden and Yle/Finland, have launched new online and mobile services that feature responsive web design.
The sites use Vizrt software for their digital media production workflow, with the design featured in their online and mobile device services based upon their own in-house research and development.
In responsive web design, the on-screen content is optimized for the resolution and size of displays on devices like smart phones, tablet computers, and laptops. The web page—including text, video, graphics, apps, and even navigational elements—contains logic that prompts each device to automatically adapt the presentation layout according to its own unique display characteristics.
"SVT and Yle are in the vanguard of broadcasters using responsive web design to enhance the user experience of their multiplatform services," said Petter Ole Jakobsen, CTO of Vizrt. "To deploy responsive web design, they're maximizing global standards, such as HTML5 and CSS, now widely supported within smart phones and other mobile devices. Since Vizrt prides itself on creating standards-compliant solutions, our Vizrt Online Suite also supports HTML5 and CSS as well as JavaScript, AJAX, and content modelled in XML."
The Vizrt Online Suite also includes a powerful tool called the Widget Framework, which provides users with ready-made building blocks (widgets) that simplify website creation. Widgets are mini-templates that contain code to swiftly create specific elements of the web page, such as articles, menus, ads, polls, and other features. Content dropped into a particular area of the layout assigned to a widget automatically assumes the functionality of that widget, which speeds up advanced website development even by non-technical staff.
"We designed the Vizrt Online Suite and Widget Framework to give our customers a comprehensive solution for designing websites right out of the box," said Petter Ole Jakobsen. "We've been supporting our Scandinavian public broadcast customers as they extend the code for our responsive web design. Our goal is to use this newly acquired technical expertise to expand our Widget Framework to include widgets that automatically enable responsive web design."
The latest in design, production and engineering
Subscribe to NewscastStudio for the latest delivered straight to your inbox.