Time Warner mulls selling NYC headquarters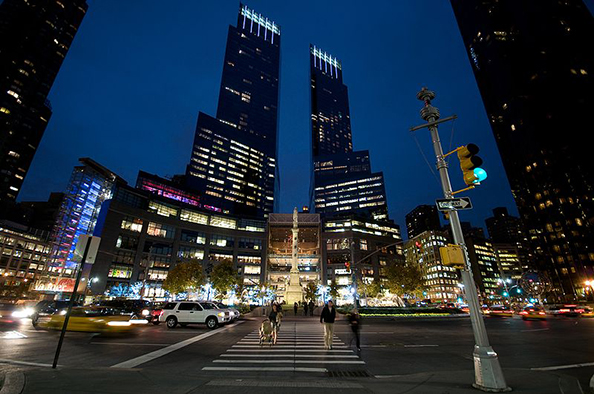 Media conglomerate Time Warner is said to be considering selling Time Warner Center in New York City, according to a Reuters report.
Reports indicate that Time Warner has begun investigating the value of the building and could explore several options, including selling the building completely and leasing back space for its use, moving additional Time Warner offices to the building or selling the building and moving out completely.
Topped out in February 2003, the twin tower building sits on the site of the former New York Coliseum at the southwest corner of Central Park just off Columbus Circle.
Originally billed as "AOL Time Warner Center," the building features upscale shopping, offices, a hotel and residential units, as well as the main offices for Time Warner.
One of its highest profile uses is the New York City studios for CNN, including sets for "Piers Morgan Tonight," "Anderson Cooper 360" and "Erin Burnett OutFront."
Time Warner owned Time Inc. maintains offices at the Time-Life Building in Rockefeller Center's Avenue of Americas side. This building was the site of the original "American Morning" studio, a windowed streetside facility that now houses SportsNet New York.
Should Time Warner decide to vacate the building, this could have interesting implications for the network's New York based operations. When the center opened, there were rumors the network would eventually abandon or reduce its longtime Atlanta headquarters, something that executives denied. The network's use of the Atlanta facility in CNN Center has fluctuated since, but ultimately CNN did invest in completely redoing Studio 7 in Atlanta for use by CNN.
One of the main sets in Time Warner Center, meanwhile, is the "Communications Center" set. This set has been modified numerous times since its debut and is starting to show its age — and could stand to be replaced no matter what happens with the network's New York City facilities.
Photo courtesy Wikipedia.