USAToday.com tweaks Gannett TV stations' videos for online use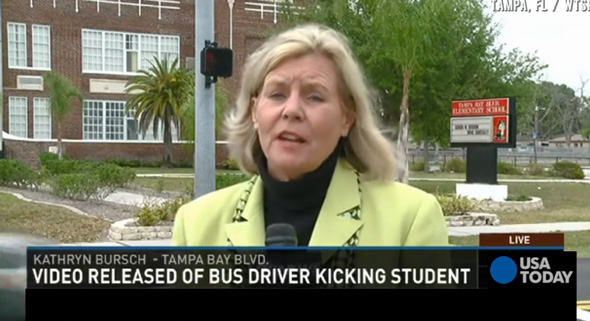 Gannett's new TV news graphics package is making appearances on USAToday.com, albeit in a slightly modified format.
The TV group's graphics, which debuted earlier this year, actually drew substantial inspiration from USA Today, with color coded bars that match the newspaper's scheme for labeling news, sports, money, tech and life.
The new motion graphics package was part of a vision of a simpler approach to news graphics, as NewscastStudio exclusively reported in January.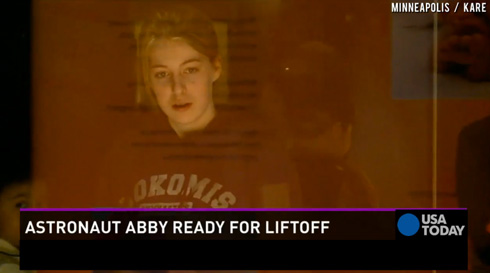 For the most part, USAToday.com appears to simply being grabbing video directly from its stations' newscasts and overlaying its own logo over the station bug in the lower right (which also hides the time and temperature that would have been included in the broadcast video). In addition, the ticker and story rundown below the lower thirds is covered by a generic black box.
Stations still get credit, but in the form of a text label in the upper right.
While the overall effect is that the lower third becomes rather large and creates a bit of a black void on screen, the implementation speaks to how cohesive the development of the package was, allowing USAToday.com (and other Gannett properties) to rebrand content with some simple modifications.
That said, sometimes the USA Today logo doesn't quite line up with the structure of the graphic and either cuts off part of the colored bar or even extends off the graphic lower third itself. Another detail that was missed is that "live" bugs don't get covered up on USAToday.com.
It also would have been interesting if USAToday.com could have used the black area for either additional information or even, perhaps, added a live text-based ticker positioned over the black area when the video is played.
It will be interesting to see if other "look and feel" synergies begin appearing across Gannett properties.
One I'd like to see, in particular, is to have Gannett's local stations start using the USAToday.com design and content management system.
I've personally become a huge fan of the USAToday.com website — it's easy to navigate, takes advantage of many advanced Web technologies to create a site that's visually interesting, reflective of today's tablet and app based world and easy to use. Overall it really represents a solid effort to create a unique news website.
The latest in design, production and engineering
Subscribe to NewscastStudio for the latest delivered straight to your inbox.