Cast your vote in Round 2 of 'Set Madness'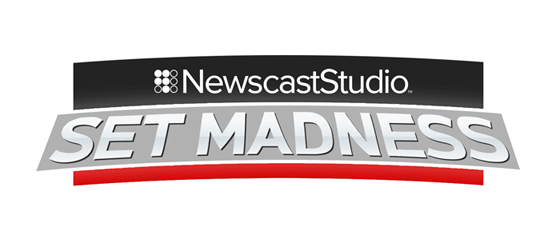 The results are in, and with over 1,300 votes cast, we're excited to announce which sets are moving on to Round 2.
Fox Sports Studio 2A defeated Jiangsu TV, setting up a showdown with CBS "This Morning" Studio 57 after it handily defeated Australia's "Today Show."
It will be the battle of the sports sets as NBA TV takes on the PAC 12 Network.
NBC Sports will face CTV for the Olympic Gold Metal. NBC and CTV both won their respective rounds easily.
WTVJ-TV will face WCNC-TV.
KSL-TV will face WTMJ-TV after receiving 53% and 55% of the vote, respectively.
KCRG-TV will face WYFF-TV.
Now it's time to vote for Round 2, remember voting lasts through Friday, March 29, at 5PM.
Round two voting
Vote here
How voting works
Round 1: Voting is now closed.
Round 2: Voting in Round 2 will last until Friday, March 29 at 5 p.m.
Round 3: Round 3 will be announced at 10 a.m., Monday, April 1. This round will have one set from each division going against two others. Voting closes Friday, April 5 at 5 p.m.
Round 4: Results will be announced at 10 a.m., Monday April 8. One network, cable or Olympic set will go head-to-head with the finalist from the local markets to determine the final winner. Voting closes Friday, April 12 at 5 p.m.
Winner: The final winner will be announced on NewscastStudio's 10th anniversary, Monday, April 15 at 10 a.m.
Please see official rules below.
Official rules for Set Madness 2013
One vote per person per round. Duplicate votes will be discarded automatically.
NewscastStudio reserves the right, at its sole and final discretion, to disqualify any votes it deems to be in violation of any rule.
In order to maintain the integrity of the contest, NewscastStudio reserves the right to disqualify votes it determines, at its sole and final discretion, are not based on the design of the set.
NewscastStudio is not responsible for late, lost or misdirected entries, or technical difficulties that may interfere with the submission of votes, and NewscastStudio may or may not, at its sole discretion, modify entry deadlines in the event of technical difficulties.
Only votes cast via the official voting forms will be counted. Votes via comments, social media, email or any other method are not valid.