'AC360' dresses sets for B37 coverage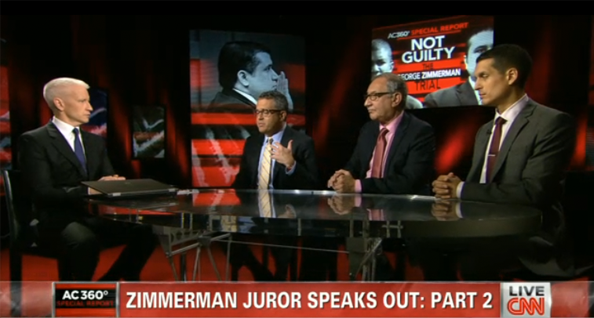 "Anderson Cooper 360" has been sporting a special look over the past few days, all in connection with the CNN show's much touted exclusive interview with George Zimmerman Juror B37.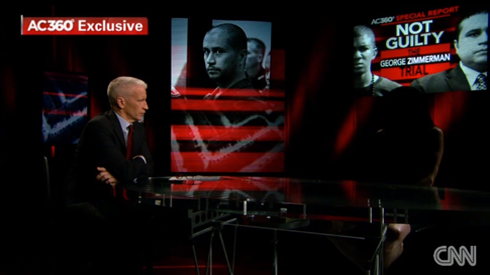 The look sheds the show's normal blue, green and metallic look for bold red and blacks complemented by dramatic lighting.
For Cooper's interview with the juror, large graphics were scattered behind the juror and host which showcased black and white photography from the verdict with horizontal red and black lines and large typography.
The special look continued Tuesday evening, when Cooper hosted a panel of experts.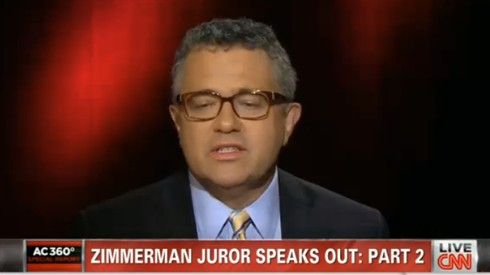 Much of the studio environment was left in shadows to match the dark look of the graphics, with splashes of red lighting adding visual interest.
Cooper also hosted a town hall from the "Piers Morgan Live" studio. This environment was given a unique look by dimming lighting behind the normally colorful backgrounds and shooting red light beams upward. The studio's corner rear projection screen was also used to display graphics similar in style to the ones used in the other studio.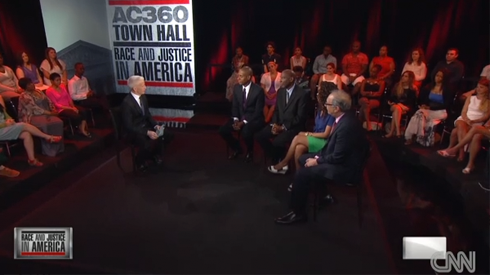 The show's normal graphics package was also dropped in favor of the red and black theme, including a special animated graphic in the lower left of the screen where show branding normally appears.