NESN revamps daily sports show, utilizes virtual set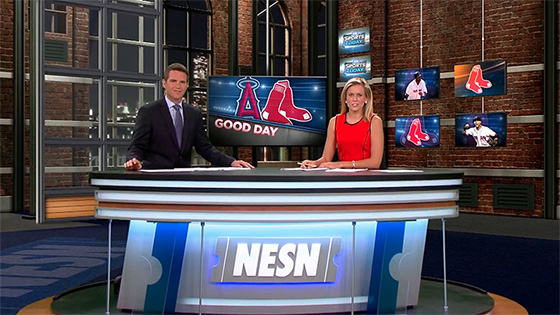 The New England Sports Network, NESN, went virtual with its newest show, "NESN Sports Today."
"We wanted to push the envelope of virtual sets by creating a photo-realistic look that has never been achieved before," said Joseph Maar of NESN. "We now have an incredible-looking set that can be easily customized for a variety of applications."
Airing immediately after NESN's Red Sox and Bruin's post-game coverage, the show is fast paced and needed a set that was easy to modify and brand. Shot on a 24′ by 24′ cyc, the set virtually opens to a 100′ by 120′ loft…
Unreel worked with NESN to design and implement the virtual environment.  Unreel has previously worked with NBC News on its election coverage, CNBC and ESPN on virtual insert graphics and Fox Sports on virtual studios for soccer programs.
"We are very pleased to be working with NESN to push the creative boundaries of virtual-set design," said Paul Lacombe, Unreel CEO. "We've been involved in the development of countless virtual-set projects over the past 20 years and we believe that the technology and software ease-of-use have gotten to the point where virtual sets and augmented reality are now accessible to all broadcasters."
The set is a collaboration between NESN and Unreel's design team, UX Design. NESN also matched the new virtual space with a new graphics package and toolkit.
"This gives them tremendous flexibility both in terms of design and the ability to create new revenue streams through virtual advertising," said Lacombe.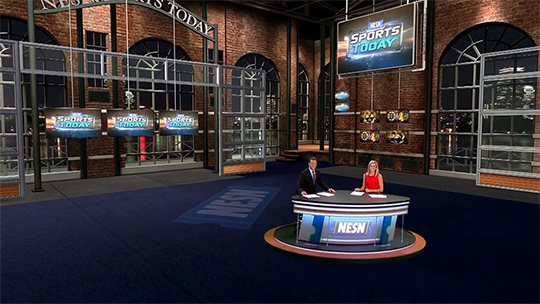 Through the design, NESN wanted to convey a feeling of Boston. Brick, large windows and a loft like feel complete the virtual space, which has been strategically designed to allow easy customization for NESN's various sports properties and for virtual advertising and sponsorship integration.
"Through an iterative design process between NESN and Unreel, the NESN Sports Today set evolved from two-dimensional sketches to a highly interactive and customizable 3D virtual set that includes aged brick and granite, large bay windows, and night views overlooking Boston," said a Unreel release. "The set has a variety of moveable virtual props including various scoreboards, a hockey dasher board, many virtual flat-screen monitors of different sizes, and virtual signage 'painted' on the interior walls."
"Sports Today" replaced "NESN Daily," which also used a virtual studio.